Popular Nigerian singer, Simi, along with her adorable daughter, Deja, crafted a heartwarming and unforgettable surprise that will be etched in the memories of those fortunate enough to attend her husband Adekunle Gold's mesmerizing performance in Dallas, United States.
The evening was set aglow on that unforgettable Friday night of September 22, as Adekunle Gold graced the stage in Dallas, United States, delivering a sensational musical experience to his eager audience. The anticipation in the air was palpable, and the crowd was ready to immerse themselves in the magic of his music.
However, what unfolded on that stage was beyond anyone's expectations. Deja, the adorable little daughter of the musical power couple, Simi and Adekunle Gold, made her way onto the stage, holding a microphone with the innocence and curiosity that only a child can exude. The sight of this young star-in-the-making stepping into the limelight elicited a spontaneous eruption of cheers and applause from the delighted crowd.
As Deja stood there, microphone in hand, her radiant presence on the stage added an unexpected layer of charm to the evening. The audience's excitement knew no bounds, and the atmosphere was electric with joy.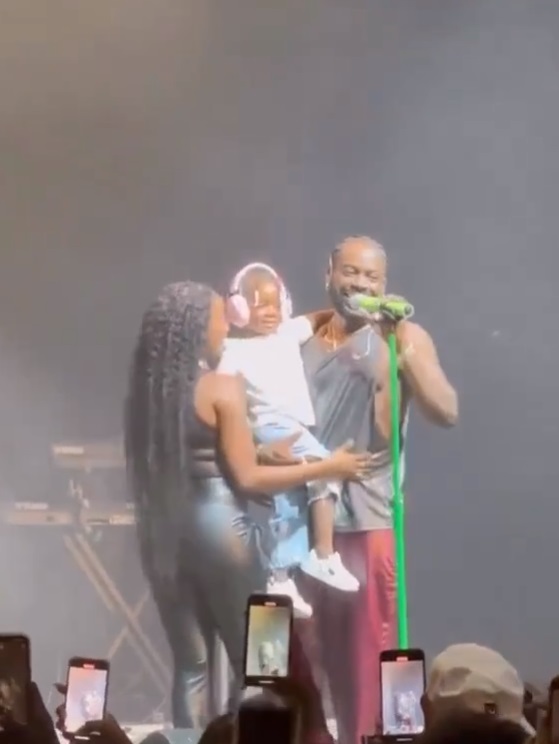 Adekunle Gold couldn't hide the sheer pride and joy that washed over his face when he saw his daughter confidently holding the microphone. His eyes sparkled with affection as he walked up to the stage, gently scooping up Deja into his loving arms. The audience watched in awe as father and daughter shared a touching moment, a testament to the love that binds their family and warms the hearts of everyone present.
Watch the video below ;