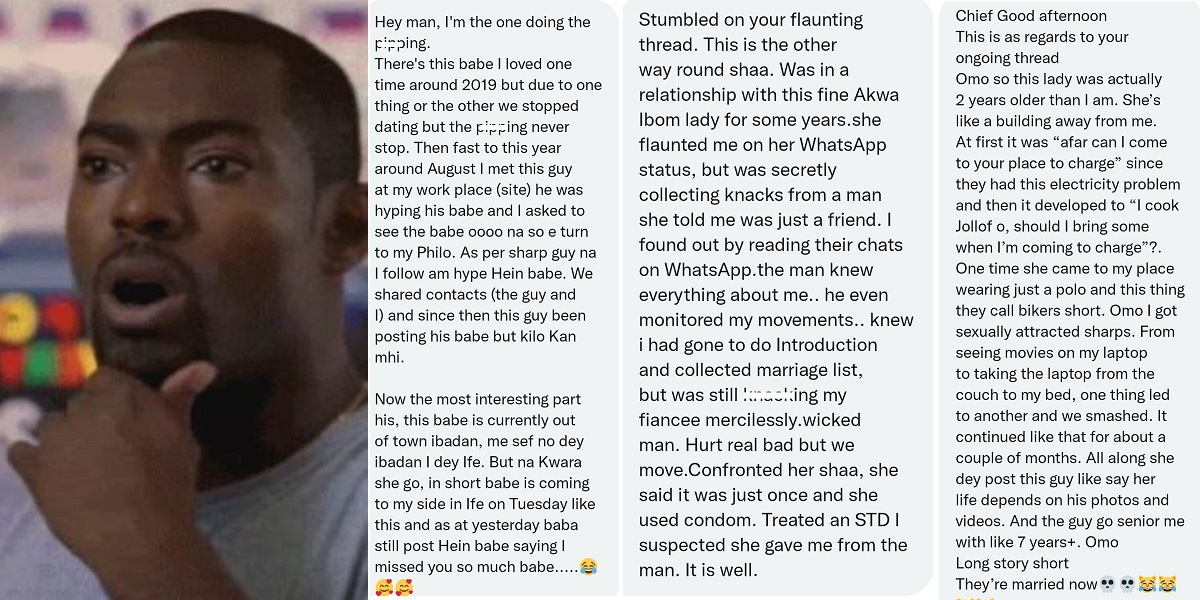 A Twitter user recently took to the platform to ask guys to share if they've ever encountered anyone who flaunts their partner on social media but unknown to the person, the guys or someone they know is secretly sleeping with their partner.
The user wrote in part,
Guys, have anyone ever flaunted their partner on Twitter but unknown to the person, you or someone you know is piping the babe.

Did the knacking still happen after the flaunting?
The user then asks people who've had such encounter to share their stories in his DM and while people were already quoting the tweet with their stories, more shocking ones were delivered to the user's DM.
The user made sure to share most of these stories that were sent to him and after tweeps read majority of them, there's been somewhat of a panic for people in relationships as it appears that no one is safe from being cheated on.
Most guys who sent in their stories, shared how they secretly sleep with women who are either married, engaged or in a quite serious relationship with their partners.
The stories have caused a debate on the microblogging platform as the stories paint a picture of women being the gender who cheats the most in relationships.
Read some stories as you scroll,
1.

2.

3.

4.

5.

6.

7.

8.

9.

10.

11.

12.

13.

14.

15.

16.

17.

18.