A Nigerian man recently shared a hilarious encounter with his UK-based uncle after seeking his support to start a petrol station in Nigeria
The man approached his uncle, who had only arrived in the UK two months prior, for financial assistance to kickstart his fuel station venture.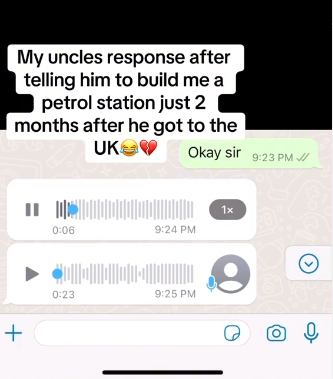 Speaking in Yoruba in a voice note released online, the uncle delivered a funny, yet sarcastic response.
He humorously highlighted that the petrol station business in Nigeria was already saturated.
Instead, he advised his nephew to explore a better opportunity by acquiring a vast land, possibly in a village, where he could establish a refinery.
This amusing exchange has garnered widespread attention, leaving viewers in stitches and prompting a multitude of humorous reactions.
The playful nature of the uncle's suggestion has resonated with many, who appreciate the lightheartedness and wit displayed in the video.
As the video continues to circulate, it has become a source of entertainment and laughter, for many online.
Here are some reactions from Netizens:
@samo_sir reacts, "The fact that this uncle settled down to send the voice note …he deserves a chieftaincy😂😂"
@thegoazbrand reacts, "The man response go Harvard 😂😂😂"
@ajbowler11 reacts, "Savage response"
@ola_oluwa reacts, "Egbon mi and sons refinery 😂"
Watch the video below: