A Nigerian woman recently expressed her disappointment after receiving a dress that she had ordered from her railor friend.
In a video shared online, she showcased the stark difference between the outfit she envisioned and the final result.
In her quest to support her friend's business, the woman had requested that her tailor friend recreate a beautiful white outfit she had seen on another lady.
However, the outcome was far from what she had hoped for.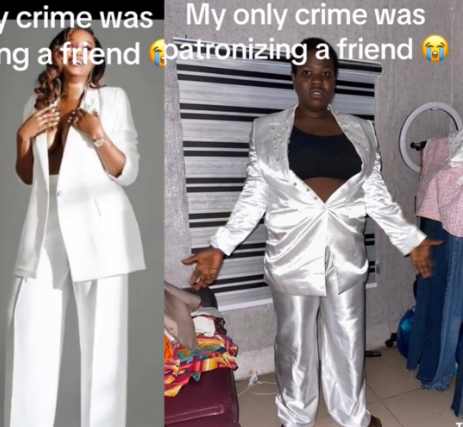 In the video, she humorously highlighted the stark difference between her expectations and the final dress.
The poorly executed design left her feeling let down and shocked, prompting her to share her experience online which garnered various reactions from netizens.
"My only crime was to patronize a friend," she wrote, accompanied by the video showcasing the stark contrast between what she ordered and what she received.
The video quickly gained traction on social media, sparking a mix of sympathetic and humorous reactions from viewers.
Many could relate to the woman's plight, while others found humor in the situation.
The incident has left many commenting on the risks involved when mixing personal relationships with business transactions, regardless of the personal relationship between client and vendor, delivering quality products and services is very important.
Watch the video below: