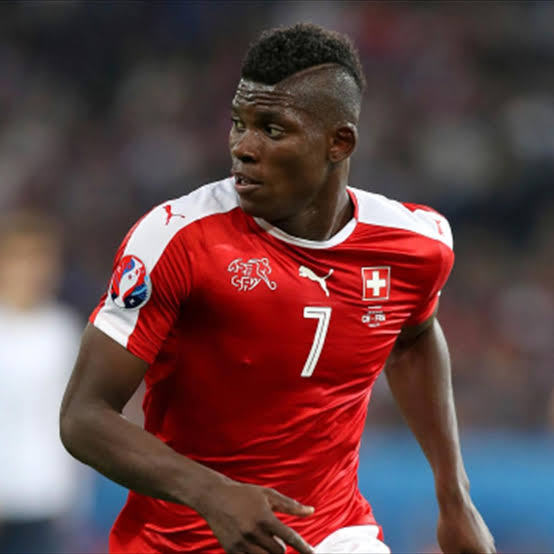 .
By Eniola Olatunji
..EMBOLO CAGED INDOMITABLE LIONS OF CAMEROON IN A LONE GOAL LOSS AGAINST SWITZERLAND IN QATAR 2022 WORLD CUP.
A naturalized Switzerland player from Cameroon, Breel Embolo on Thursday spoilt the party for the Indomitable Lions of Cameroon helping to tame the West African team that showed at Italia 90 when he scored the lone goal that turned the Lions to Pussy cats at 48th minute after collecting an assist from Xherdan Shaqiri.
It was more painful because the now 70 year old star boy of Italia 90, Roger Milla who emerged the oldest player to score a world cup goal then was given a Certificate of Honor by FIFA at the Group G pre-match ceremonies of the Rossocrociati (Red Crosses) of Switzerland and the Indomitable Lions of Cameroon.
Another African, Manuel Akanji from Nigeria who played in the defence for the Switz ensured the fall of the Cameroonian and bagged a yellow in the 83rd minute among the three yellows awarded. Collins Fai of Cameroon got the first yellow (36th minute) and Nico Elvedi of Switz (64th minute).
It is unfortunate that from the proceedings of the first round of the group stages, no African country has scored a goal or won a match. Atlas Lions of Morocco played goalless with Croatia like Denmark and the Carthage Eagles of Tunisia but Teranga Lions of Senegal fell badly incurring major fractures 0-2 to Netherlands.
Switzerland ranked 15 in the world and making their 12th appearance has better records than Cameroon having made the quarterfinals thrice in 1934, 1938 and 1954. Four times they also made the round of 16 in 1994, 2006, 2014 and the last tournament of 2018 but they were booted out at the group stages four times in 1950, 1962, 1966 and 2010 in South Africa.
Cameroon ranked 43 in the world is coming to the party for the 8th time but their dramatic height was quarterfinals in 1990 at Italia 90. They were part of France politically till 1958 and came for the first time in 1982 where they placed 17th among the teams on parade. At Italia 90 Cameroon scored 7 goals and conceded 9.
Samba boys of Brazil is to complete the first round of the group stages of group G against Serbia at 8pm West African Time of today, Thursday.
Cameroon will have a chance to redeem their dream of advancement on Monday at 11am West African time when the team play against the Serbs while that day Brazil will play Switzerland at 5pm.
Eniola Olatunji reporting.
#FifaworldcupQatar2022.
Share your story or advertise with us: Whatsapp: +2347068606071 Email: info@newspotng.com
--Recommended Articles--