A woman from London, identified as Ana Stanskovsky, has set the internet abuzz with her decision to tattoo her boyfriend's name on her forehead.
The amusing act quickly went viral after Ana shared the footage on TikTok.
In the video, which has been viewed by nearly 19 million people, Ana boldly declares her intention to get her boyfriend Kevin Freshwater's name inked on her face.
However, some netizens questioned the authenticity of the tattoo, suggesting it may be a mere stunt because there was no sign of blood or redness.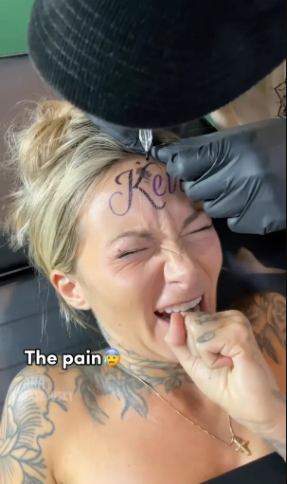 Ana, however, confirmed the validity of the tattoo in subsequent clips, defending her choice as a genuine expression of her love and devotion.
She explained that displaying her feelings in such an extreme manner was a way to demonstrate her deep affection.
Unsurprisingly, her decision received mixed reactions.
Some viewers criticized the tattoo as impulsive and claimed that she would regret it in the future.
Meanwhile, others applauded Ana's boldness and interpreted it as a testament to the strength of her relationship.
In response to the backlash, Ana even suggested that other partners should follow suit and get their significant others' names tattooed on their faces, asserting that true love should be showcased.
While the viral video has generated widespread attention and still creating debate, many still choose to believe the tattoo is nothing but a mere stunt.
Watch the video below: