Her brother, Warren Massey, said he dropped off Katherine at the grocery store shortly before the shooting.
He said that he usually stayed with Katherine but that she told him to come back and pick her up. "I never thought that was the last time I would see her," he said.
Katherine, or Aunt Kat, as her family called her, was the family matriarch. She never had children but was a mother figure to her nieces and nephews.
"She was the greatest person you will ever meet in your life," said nephew Demetrius Massey, 39. 
Dawn Massey added: "She would do anything for anyone. Very family-oriented. She was the closest extension of our grandmother." 
Her family said they are trying to process her death. 
"I'm still using present tense," Dawn Massey said.
Demetrius Massey added, "It doesn't seem real."  
Aaron Salter Jr., 55, a security guard at Tops, was also remembered as a beloved member of his community. Buffalo Police Commissioner Joseph Gramaglia called him a "hero in our eyes."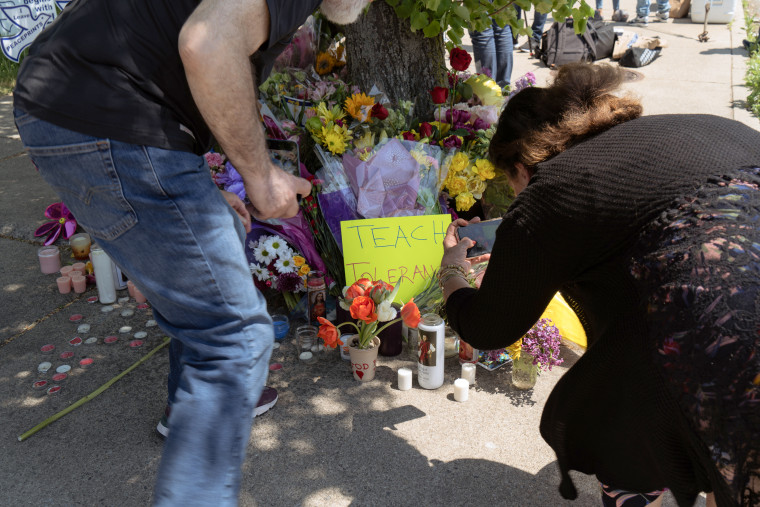 Salter, a retired Buffalo police officer, fired at the gunman multiple times, but the bullets did not pierce the suspect's armor-plated vest.
Ruth Whitfield, 86, had just visited her husband at a nursing home, where he has lived for eight years, and had stopped for groceries when she was gunned down.
Her son, retired Buffalo Fire Commissioner Garnell Whitfield, told reporters Monday that the family hasn't yet told his father about Saturday's tragedy.
"How do we tell him (that) the love of his life, his primary caretaker, the person who kept him alive the last eight years, how do we tell him that she's gone?" Whitfield said.
"Not just that she's gone, but (that) she's gone at the hands of a white supremacist, of a terrorist, of an evil person who is allowed to live among us."
Whitfield's daily visits to her husband involved small tasks that often included ironing his clothes, clipping his nails or grooming his mustache.
"Religiously, every day she goes and sees about him," the former fire commissioner said of his parents, who had been married for 68 years.
"Whatever he needed to maintain some sense of dignity and quality of life, she poured herself into that. And on that last Saturday, she was doing that same thing."
Heyward Patterson, a 67-year-old driver, was loading groceries into his car for a client when he was gunned down, wife Tirzah Patterson told NBC News.
"'Why this way?' That was my response," said the grieving widow and mother of their 12-year-old son.
"I didn't know if I should be angry, I didn't know if I should be hurt. There are all different kinds of emotions, but the first thing I thought was, 'Why this way?' Any other way, I'm not saying I'd prefer him to pass away in his sleep or something, but this (is) tragic, not this way."
The family of Roberta Drury, 32, said she grew up in Cicero, New York, and moved to Buffalo 10 years ago. She helped care for her brother, who is recovering from cancer.
Share your story or advertise with us: Whatsapp: +2347068606071 Email: info@newspotng.com
--Recommended Articles--