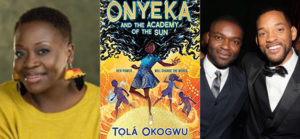 According to Deadline, Will Smith's Westbrook Studios and David Oyelowo's Yoruba Saxon have teamed up with Netflix to bring Tọlá Okogwu's yet-to-be-released book, "Onyeka and the Academy of the Sun," to the streaming screen.
"Onyeka and the Academy of the Sun" is a yet-to-be-released novel by Tolá Okogwu, a British-Nigerian novelist, journalist, and hair care educator best known for her book "Daddy Do My Hair." This book is about a British-Nigerian girl named Onyeka, who discovers that her Afro hair is endowed with psychokinetic power. As she learns more about who she is, she comes across a threat to her new magical community.
The book is scheduled to be released in the United Kingdom and the United States in June.
Ola Shokunbi, who writes on the ABC series "The Fix," has already been tapped to write the screenplay.
Oyelowo, Smith, Westbrook Studios' Heather Washington, and Jone Mone, the company's co-president, are producing the project. Jessica Oyelowo and Heather Washington, the company's co-president, are executive producers.
No release date or cast has been announced as of yet, but we do know that the film will be a feature-length production. Looking forward to seeing how this story plays out and hoping it will feature some Nigerian cast and some locations in Nigeria.
Share your story or advertise with us: Whatsapp: +2347068606071, 2348053062268, Email: info@newspotng.com
--Recommended Articles--