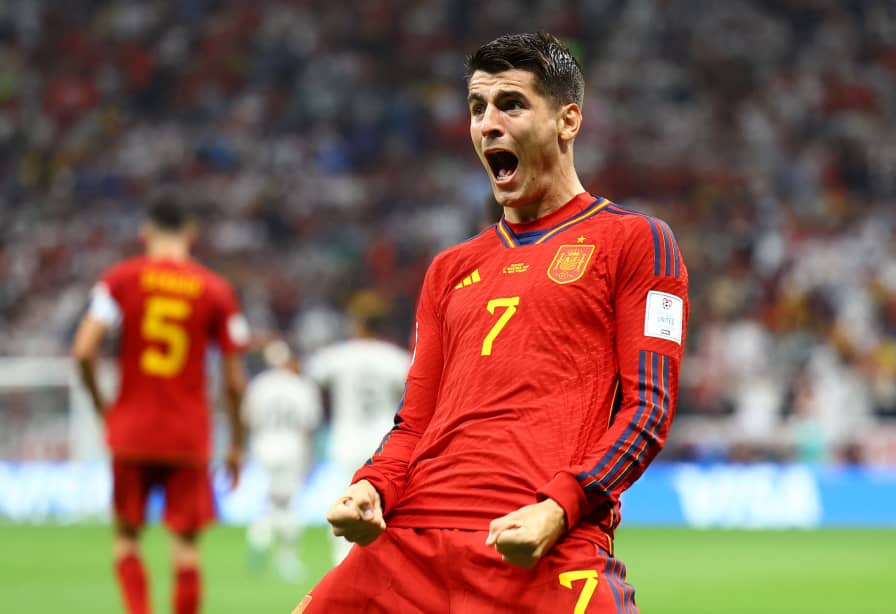 By Eniola Olatunji
The German Machine played like Trojans on Sunday night in Group E but could not overcome Spain as both settled for 1-1 draw leaving the group to all slug it out at the group final round.
German's enfant terrible, Antonio Ruediger got a goal in the 40th minute but VAR disqualified the goal. Ruediger was the pivot of the German team to win the match connecting most moves but it did not work out as planned.
Defender Jordi Alba of Spain found Alvaro Morata who replaced Ferran Torres for the Spanish goal at 62nd minute.
Again but for Germany, Jamel Musiala found the substitute for longest playing German, Thomas Muller in Niclas Fuellkrug who scored the German equalizer that raised blood pressure of many football fans who were at sea as to who wins the match.
It was a tensed match from the first whistle a very rough match that saw Spain caught with 13 fouls to Spanish 11 foul calls; Spain got only a yellow card while Germany recorded 3 yellow cards.
Eight times Spain met Germany before the Qatar game, won four times; drew twice and lost twice. Germany spanked Spain in 2000 friendly 4-1; lost to Spain 1-3 in 2003; lost again to Spain 0-1 at the Euro final 2008. Germany lost 0-1 to Spain in the 2010 South Africa world cup semifinal; won in a friendly in 2014 by a lone goal and drew 1-1 in 2018. At the 2020 EUFA nations league Germany was lashed 0-6 but drew the second leg 1-1.
In the first round, Germany fell to the Hi Tech Japan in a shock loss 1-2. Spain spanked thoroughly Costa Rica 7-0.
The group table shows Spain leading by 4 points with +7 Goals difference; Japan is next with 3 points but zero goals difference; Costa Rica is 3rd on the table with 3 points and -6 goals difference while Germany will be doing a lot of permutation at the bottom with their one point and -1 goals difference.
So come Thursday 1st December the German Machine Engineers referring to the Coaches and the bench will need to copy Spain and beat Costa Rica to coma or have a repeat of 2018 when the Germans went home early. Same day same time at 8pm, Japan will battle Spain for a ticket in the group.
On Monday the last of the second round matches will be played in groups G and H. Indomitable Lions of Cameroon will open the day with Serbia at 11am and Samba boys of Brazil without their injured captain will meet Switzerland at 5pm in group G.
The Black Stars of Ghana will stretch it out with South Korea at 2pm while Ronaldo will lead Portugal against Uruguay at 8pm.
Eniola Olatunji reporting.
#FifaworldcupQatar2022.
Share your story or advertise with us: Whatsapp: +2347068606071 Email: info@newspotng.com
--Recommended Articles--