.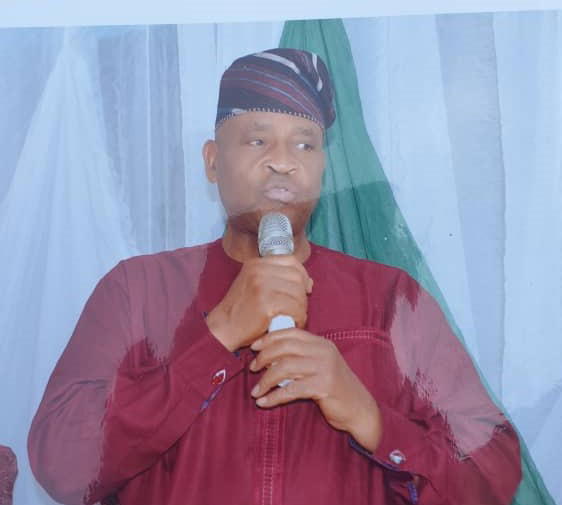 …Insists  Governor AbdulRazaq's  Achievements in 29 months surpasses 16 years of Saraki and Ahmed in Kwara
By Demola Akinyemi, Ilorin.
Former Presidential Adviser on National Assembly Matters during former President Goodluck Jonathan administration, Senator Suleiman Makanjuola Ajadi has said that the achievements of Governor AbdulRahman AbdulRazaq of Kwara state in the last 29 months surpassed that of his predecessors, former Governors  Abdulfatah Ahmed and Dr Bukola Saraki in the last sixteen years.
Ajadi, a former senator representing Kwara South senatorial district in Kwara State and a Chieftain of the ruling All Progressives Congress (APC) who said this in Ilorin at the weekend while speaking with journalists on the sideline on the just concluded Nigeria  61st Independence Celebration did a comparative analysis to back up his claim.
The APC chieftain who challenged anyone to contradict his claims said he was ready to be attacked by anyone who might  felt offended if he has lied.
He said various communities across the three senatorial districts where the governor has done well will vote for him again based on his performances in 2023 and not based on the abuses being hurled at him by the few who never supported his ambition to become the governor.
Worried by incessant killings and banditry across the country, Senator Ajadi also urged President Muhammadu Buhari to investigate various countries across the world which had the same security challenges Nigeria is currently facing and how they surmounted the challenges in tackling the current security impasse.
He expressed concern that if the present administration did not do the needful by 2023 and restore Nigeria to normalcy, all the achievements of President Buhari would be eroded by the current increasing security challenges.
He said, "I pity President Muhammadu Buhari as a former military Head of State that fought the Nigeria civil war, many Nigerians expected that he should have the capability of controlling our security apparatus to have effective result but alas it has become albatross as well to his neck since assumption of office as a civilian president.
"And I pray for him because the current security crisis has eroded his(Buhari) credibility and if at the end of his tenure nothing is done to bring us to the normal situation on the security situation of the nation, then its a pity".
He added, "We are in serious problem in Nigeria, as of today, we are not safe in any part of the country. Whoever you are now either small or superman you are not safe in the country and it has got to a level when you enter your home, you can be kidnapped and taken away because many people have been kidnapped in their homes and on our roads and people are now being killed anyhow without any challenge from anywhere.
"For example, recently, the husband of Late former Information Minister, Prof. Dora Akiyuli, Dr Chike Akiyuli was brutally murdered, the same thing to late Senator Solomon Edoga, he was kidnapped and killed, what of a first-class traditional ruler in Niger State and host of many Nigerians that have been kidnapped and killed by the bandits.
"Apart from this, schools have been closed in Kaduna state due to banditry attack and this has made parents withdraw their children from schools.
"All these situations have rubbished what Nigeria might have gained as a nation and any nation where security apparatus is collapsed, such nation will eventually collapse and this is unfair at all".
He maintained that "Removing Buhari cannot solve the problem. Even putting Alao or Olaosebikan, it will be the samething and the problem will continue. 
He, therefore, said that " The situation on the ground is general as it affects all sections of the nation. It affects Yoruba, Hausa and Ibo and it is a general problem and it must be solved by all of us so as to move the nation forward".
The septuagenarian politician who was elected Senator representing Kwara South between 1999 and 2003 also expressed his intention to return to the Senate in 2023 saying that non of the elected senators between then and now has surpassed his achievements.
Speaking on whether the factional crisis in the party would not deny the governor of the second term  Ajadi said,"Your handwork will speak for you in any situation at the end of the day. So, people will not evaluate Governor AbdulRazaq based on what anybody is saying about him, no community will judge him based on the abuses few people in the system are passing on him, so all the communities will decide whether or not to vote for him based on what he has done for them, it's about performance that's why I said his handiwork will speak for him. When the election time comes, reasonable people will be more than the unreasonable people."
Continuing, he said, "At the party level we will say this man has spent four years, what has he done in four years? the people before him what have they been doing in four years? As far as I can see, Governor AbdulRazaq has done in 3 years more than the opponents did in 16 years in Kwara state."
In his comparative analysis that Governor AbdulRazaq has done well more than the administrations of Alh Abdulfatah Ahmed and Dr Bukola Saraki put together in 16 years, Senator Ajadi said," Governor Abdulrahman has done in three years more than what the opponents did in sixteen years in Kwara."
He said, "This is commonsensical, just look at our infrastructure in the last 16 years, for instance in my village our schools were blown off and our children were learning under the trees for those sixteen years.
Then I approached the then governor that came from Kwara South Governor Abdulfatah Ahmed, we are from the same Share in Ifelodun local government, that our school's roofs have blown off, he didn't do anything about it.
Aje village lost our primary schools and for the eight years of "Megida", they didn't repair it. We again approached the government using my name then, they said there was nothing they could do about it.
"This school was my old school, so I constructed three blocks of classrooms, I had to leave it when it got to the roofing stage and I didn't have money to complete it. So, for the first eight years Dr Bukola Saraki was the governor and additional eight years of Governor Abdulfatah Ahmed our children learnt under the trees.
" Now Governor  AbdulRazaq came within three years and did all that. So, which one is better? Is it three years of Governor AbdulRahman or sixteen years of those who looked at it without doing anything?
"Also for 16 years, even more than 16 years I mean during the administration of Alh Mohammed Alabi Lawal as the governor, they did one kilometres road in Babanloma and for 16 years nothing like roads again within a community that has very big two electoral wards.
"Governor AbdulRahman came in three years and has done two kilometres of Asphalt roads in that same community. So, which one is better? Is it three years or sixteen years?
"Within Ilorin in the last sixteen years, most of the health centres are dead in Ilorin, e.g Adewole health centre, Alanamu basic health clinic, Ogidi health centre and so on. For sixteen years all of them were no more habitable, they were infested with rats and cockroaches, go back to these same hospitals now. Within three years all of them are now what you can call hospitals.
"In sixteen years, most reputable secondary schools in Ilorin for example Ilorin grammar school which came up as a community efforts to bail out Ilorin in those days when they used to go for secondary school education in Igbomina, the school became empty shells within those sixteen years, there was no more Ilorin grammar school because most of the buildings didn't have roofing on them again, the same thing with Ilorin College, go to the two schools now, they are like modern secondary schools.
"They have been completely renovated and put to use now in three years. Which one is better is it sixteen years when the schools were abandoned to rot away or the three years?
"In sixteen years, a road that led to Judges quarters from Basin road, Ilorin was no more passable, but go there now the road is Asphalt. The same thing with Fate roundabout and many roads in the Ilorin metropolis. Go to inner Ilorin now where they introduced this interlocking type of road because it's difficult to do Asphalt in those places because of small space, all those internal roads inside Ilorin have been completely interlocked now, they didn't exist in the last 16 years.
"Now, the government has started massive construction and reconstruction of primary schools in Ilorin and I can tell you that within the next six months the schools would have been revamped and become modernised schools, so which one is better?
"All these things are also taking place in Kwara South and Kwara north. Let me go deeper in Kwara South, nothing worked again in Kwara South. The minister of Information and Culture Alh Lai Mohammed is from Oro. Where we have a monument in Esie, it's not far from Oro, in fact, there is no difference. The museum is under Tourism and culture, for six or seven years as Minister, Alh Lai Mohammed did not fix the road to that museum in Esie, as I'm talking to you the road has been made a first-class one by Governor Abdulrazaq.
"Also  Oro Grammar school one of the indigenous grammar schools in Nigeria built in those days when Oro had money, very big secondary school became dilapidated for that sixteen years. (He pointed at three eminent natives of Oro who came to visit him.)These are eminent people from Oro, I should be ashamed lying about their community in their presence.
"There are thirty-something buildings in that school, it's like a small university, go to that same grammar school now, it has been rehabilitated, the roads to the school, down to Ojomu Oro are now Asphalt within three years of Governor  AbdulRazaq, the same thing in Osi and virtually every part of Kwara. If we go to Kwara north, that one is wonderful."
Speaking on his agenda for 2023, Ajadi said,"Many people have been asking me to go back to the Senate and iv been telling them that at the right time I will make a statement. I think it's because of the difference between when I was a senator and when some other people came in, when they compared they realised that if I go back, the good old days will also return because my time in the Senate is being regarded as the good old time.
"Senate is for the elderly(citing several names)and for some security reasons and others so my age cannot be a barrier. "
Newspot News Nigeria
Share your story or advertise with us: Whatsapp: +2347068606071 Email: info@newspotng.com
--Recommended Articles--