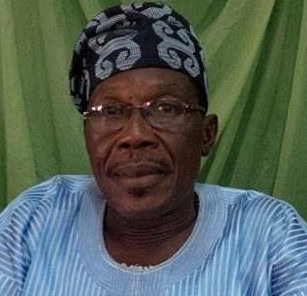 Full Speech of Appreciation from Eddy Aina
As a preface, I like to quote Louis Lavelle's perception of existence. Existence, he says "has no other meaning except to permit us, not to realize an essence, but to determine it by our choice and to identify ourselves with it. It is by the choice of our essence that we establish our eternal place in Being"
The urge to pry into the inner recesses of journalism and broadcasting was not by accident but by choice, given impetus by the preeminence of radio in its primitive and rustic being—reddifusion– devoid of contemporary modern appurtenances.
The colonial instrument was not designed primarily for the colonies but for the British nationals residing in Nigeria, particularly information sharing and home news in their administrative mix.
Nonetheless, Reddifusion was novel and intriguing to the young and impressionable mind, before and after its various stages of metamorphosis to the Federal Radio Corporation of Nigeria.
Choice, indeed is imperative, but requires unalloyed pursuit of crucial ingredients for success—choice of subjects; choice of relevant society; institutions' press clubs; editorial boards of colleges, and of course, the study of Journalism coupled with activism in professional bodies and very rare opportunities to head a union of journalists, were contributory factors.
Not relegating to the backwaters, the training and retraining opportunities in Nigeria and overseas as well as innumerable conferences and workshops; paper presentation and writing chores.
For me, it is significant to mention the impact political coverage had on my career, especially reporters who had panache, style and diction beyond the ordinary, to keep the listener glued to his or her seat. I recall with relish the exploits of one of the greats in Radio Nigeria, who bestrode political reportage like a colossus. He was an adept in taking the listener to political campaign grounds, invariably ending his report with "And so, the campaign continues, Horatio Agedah"
Bye and large, since journalism, broadcasting and communication are a kaleidoscope of sorts, many opportunities abound that can be exploited for good or for bad .What is constant, however, is that journalism must prioritize public interest. This seems to be lacking, given the spate of fake news, unverified reports, rebuttals, fines by regulatory agencies and hackers constantly on the prowl.
Journalism profession, is certainly not for those who hanker for money. The Code of Ethics and Code of practice, frown at everything, other than truth, fact, accuracy and balance among others. Partisanship and patronage which are palpable, cast aspersion on the profession. The 'be all and end all' is contentment, contentment and contentment.
Given the enormous responsibility the 1999 Constitution of the Federal Republic of Nigeria, (a amended) places on the media in Nigeria, to uphold the responsibility and accountability of government to the people, the media are significantly hamstrung considering the dismal economic situation—foreign exchange, hyper inflation, cost of diesel, equipment maintenance, staffing  and logistics.
Besides, it may be difficult to underestimate the contribution of the media,  in terms of Corporate Social Responsibility  complimenting the efforts of government especially during Covid 19 pandemic and now that the 2023  general elections are around the corner. Therefore, it bears no repeating that it is high time the government extended financial support to the media in times of dire economic distress.
No doubt, the deregulation of the broadcast industry in Nigeria has opened a floodgate of broadcasting outfits close to seven hundred, — public and private—radio, television, Direct to Home as well as community radio.
Some analysts have contended, that the number is too large for our economy; others see the number as healthy for the country's socio—economic and political development. The stations must embrace a blend of competition and co-operation popularly called co—opetition to guarantee the survival of the industry.
On a final note, I like to express heartfelt thanks to Almighy God for His Mercies for making this possible. I have been privileged to work with thoroughbred professional bosses during my journalistic labyrinth and regulatory firmament.
As a News Editor, each time my news bulletin was read by Messrs Yomi Onabolu and  Kunle Olasope, both of blessed memory, it was always a beauty to the ears—seamless, good diction, comprehensible and proper pronunciation of names, unlike the present corps of news readers. Also, in this bracket was the man that taught me the art and science of anchoring current affairs programs—Martini Akande of blessed memory.
I cannot but appreciate Ojulowo Omoluabi, Victor Eniola Mark, the Chairman of the Conglomerate that incepted this annual award. Our paths crossed about four years ago, here in Abeokuta engaged in broadcasting chores.
He is an energetic, ebullient young man, imbued with "Can—do—spirit"; endowed with quality business sense, he who hardly takes 'no' for an answer.
When I was informed about the annual award, I was nonplussed and because of my quiet life-style, notwithstanding being in the public glare on radio and television almost every day. What to do? I opted for the positive.
Lo and behold, going through the quantum of gladdening comments of many people on many platforms and outside, I have every reason to thank God and the Oodua Conglomerate for the honor.
EDDY AINA
Share your story or advertise with us: Whatsapp: +2347068606071 Email: info@newspotng.com
--Recommended Articles--