Ahead of the October 10, 2020 Gubernatorial Election in Ondo State, Engr. Ife-Oluwa Oyedele, a frontline politician and an associate of President Muhammadu Buhari, says he has the ace and magicwand to dislodge the incumbent Governor Rotimi Akeredolu in the forthcoming Primaries of the All Progressive Party (APC) and later proceed to coast home to victory at the main election, vowing to send the Senior Advocate of Nigeria back to his legal practice.
Oyedele who is also an Executive Director at the Niger Delta Power Holding Company(NDPHC) was a member, Board of Trustees of the defunct Congress for Progressive Change (CPC) which was the Buhari's wing of the present APC, a product of a merger between the then Action Congress of Nigeria (ACN) and CPC.
The Okitipupa-born Engineer is seriously embittered that Chief Akeredolu's lack-luster performance in governance has put development and economic progress of Ondo State in reverse gear, adding that it would require a creative and focussed personality like himself to reverse the downward trend.
It is owing to these reasons and several others that Engr. Oyedele is throwing his hat into the ring in such a way the the glory of the once lofty efforts of the founding fathers of the State such as Chief Adekunle Ajasin and Chief Segun Agagu would be revamped and restored.
He spoke extensively during an interview. Excerpts:
On Governor Akeredolu
"I can tell you this for free, by the time the party Primary is over, Akeredolu would not have the guts to go to another party to contest, He should begin to park his load to go back to legal practice. It is glaring to all by now that within a spate of three and half years, the governor has put Ondo State in the reverse gear. We have all witnessed what I can call retrogressive governance. Indeed, Akeredolu lacks capacity and the much needed sagacity in administration. I am not too sure if he has ever managed 15 people in his chamber. I can tell you categorically that those that are in his chamber are not up to 15. He aslo has character deficiency. These are the factors hindering him from performing to expectations."
Building on Agagu's legacies
"If you look around, Ondo State has tremendous economic potentials as well ashuman capital resource and with these, we can turn things around completely in four to six years. Fortunately, Governor Agagu spent a lot of time planning. He spent so much time doing foundational planning. You know when you plan, you then begin to execute immediately.
"As for me, We don't even have the time anymore. You know we cant depend on oil anymore. We don't need to do anything again because there is already a plan. All I need to do is to juxterpose my plan with Agagu's plan and determine where we are and begin to do many things at the same time.
"Some people would tell you don't worry just pick your priority and concentrate on them. No! I tell them no, that is mischief. It is only if you want to steal that is when you say you want to concentrate on two or three things so that you can make money from it. Once you make up your mind to serve the people, you cannot afford to leave out any area of their life without doing something about it."
I Will Adopt Jakande's Style Of Governance
"Let me tell you what I would do in the first six months of my administration, I would build three industries in ondo state in each of the three Senatorial District of the State.
"I am going to pattern my administration after what Chief Lateef Jakande did in Lagos State. His record has remained unbeating so far. He opened up such roads like Iba- LASU Road, the Ikorodu Road, he repaired the Sagamu Ogijo Road, he built the Epe Lekki Road. Those were the things Jakande did and I am determined to follow a success story like his.
"In education, he established the Lagos State Polytechnic, the College of Education, Ijanikin. He built over 40,000 classrooms of secondary school. In housing, he did extremely well. In water, he did Iju waterworks, he expanded it and many more. He Built the Agege Stadium. He built the Lagos State Secretariat at Ikeja, The roundhouse. I can go on and on about him. This is the vision I am bringing into governance. I have gone this length to underscore the fact that Jakande touched all areas, not just a part. So, what im saying is that he didn't concentrate on one or two things alone"
Honesty, Sincerity As Personal Ethos
"I don't understand why a person would want to steal in government. The only purpose for anyone to become a governor is because he wants to better the life of the people, let me tell you that if you become a governor, you will never be poor if you serve the people well. But, if you steal money, you will always be poor. You can have 10 big cars in your compound but that doesn't amount to wealth, even to buy petrol to the cars might be a problem. This is my personal philosophy of life. If you serve the people well, you will live a life of comfort all the days of your life."
Determination And Confidence To Emerge Victorious
" I am well prepared for this position, my programme for the next four years is ready. I do not doubt that there would be ups and downs but at the end of it all, we shall all give thanks. I trust in the lord. I have never received bribe and never given bribe. I am confident my God would help me."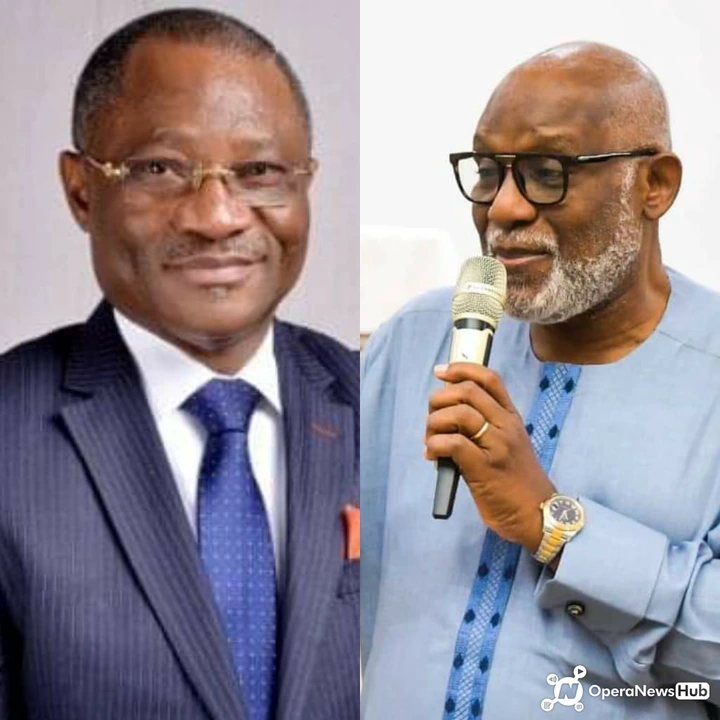 Share your story or advertise with us: Whatsapp: +2347068686071, +2348053062268, Email:
[email protected]