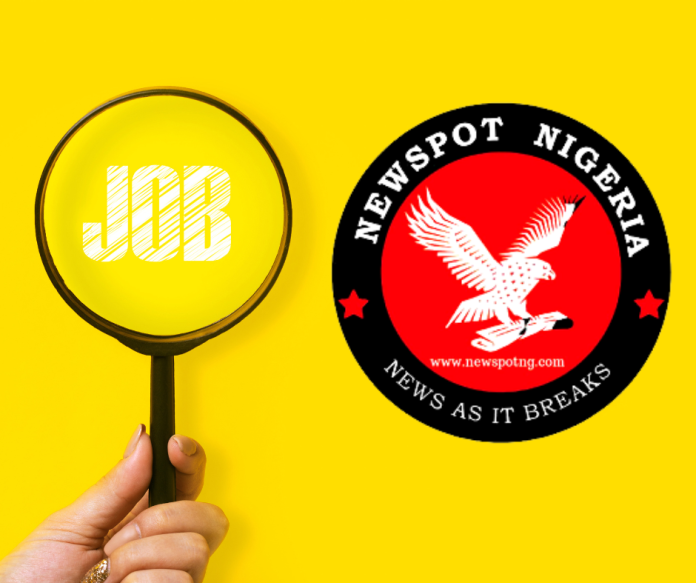 Job Vacancy: Job title: Re-advertisement: Child Protection Specialist (Harmful Practice) , NOC, Lagos, Nigeria, #108766 (Fixed Term) Open to Nigerian nationals only

Job description: UNICEF works in some of the world's toughest places, to reach the world's most disadvantaged children. To save their lives. To defend their rights. To help them fulfill their potential.
Across 190 countries and territories, we work for every child, everywhere, every day, to build a better world for everyone.
And we never give up.
For every child, a champion
In Nigeria, UNICEF works in a complex humanitarian and development setting to fulfill and protect children's rights in partnership with government, civil society, children and families. UNICEF Nigeria is one of the largest UNICEF Country Offices globally – click the link to learn more about UNICEF in Nigeria:
The Child Protection Specialist (Harmful Practices) will serve under the direct supervision of the Chief of Field Office in Lagos. This function will work within the context of supporting the achievement of the Sustainable Development Goals, UNICEF Strategic Plan, UNICEF Gender Action Plan, UNICEF Child Protection Strategy and the Country Programme (or UNDAF). Under the UN Joint Programme on the elimination of FGM, in close collaboration with UNFPA and other UNICEF sections in the Lagos field office (SBC, health, education and social policy), the incumbent will coordinate the implementation of the FGM programme in the Southwest region, will develop partnerships and contribute to the overall work of the Child Protection section to end all forms of violence against children, particularly girls, in region. The implementation of the programme will be scaled-up in the States where the Joint Programme is currently active (Oyo, Ekiti and Osun) and will be expanded to new hotspots identified in the latest MICS 2021 as priority states to end FGM for children 0-14 (Kwara, Ondo, and Edo). The Child Protection Specialist (based in Lagos field office) will work closely with the Child Protection Specialist (Harmful Practices) and the Child Protection Chief of Section based in Abuja to ensure that the aims and approaches to create the conditions to prevent violence against women and girls and harmful practices at the individual, community/organizational and societal level, and strengthen access to services with a survivor-centric approach in line with the overall UN Joint Programme.
How can you make a difference?
The Child Protection Specialist reports to the Chief of field Office for general supervision and operational guidance and to the Chief of Child Protection and the Child Protection Specialist (Harmful Practices) for technical implementation of the programme. The CP Specialist is responsible for the management, implementation, monitoring, reporting, and evaluation of the child protection programme within the country programme with a particular focus on the UNFPA-UNICEF Joint Programme on the elimination of FGM. This also includes the provision of support to the implementation of the Child Protection programme(s) as it relates to System Strengthening (including data management, community structure and social welfare workforce strengthening, justice for children and birth registration). This role requires a strong background and professional experience in gender and social norms change, in addition to child protection interventions. H/She facilitates the administration and achievement of concrete and sustainable contributions to national and international efforts to create a protective environment for children against all harm, and to protect their rights to survival, development and wellbeing as established under the Convention on the Rights of the Child, international treaties/frameworks and UN intergovernmental bodies.
The CP Specialist contributes to the achievement of results according to plans, allocation, results based-management approaches and methodology (RBM), and UNICEF's Strategic Plans, standards of performance and accountability framework.
Summary of key functions/accountabilities:
Support child protection system programme planning and implementation.
Programme management, monitoring and delivery of results on harmful practices.
Networking and partnership building on harmful practices, including with traditional/religious leaders and women and youth-led groups, to scale-up the Movement For Good to end FGM in Nigeria.
Innovation, knowledge management and capacity building.
To view the full job description, please refer to the attached…
To qualify as an advocate for every child you will have
An advanced university degree in one of the following fields: international development, gender, social norms, human rights, psychology, sociology, international law, or another relevant social science field as it relates to harmful practices and gender issues.
A minimum of five years of professional experience in social development planning and management in child protection and gender related areas is required.
At least five years of relevant professional experience with demonstrated track record of having undertaken and led evidence-based programming on child protection, gender, social norms or harmful practices, with a cross-sectoral and adolescent girl focus.
Experience working on community engagement programmes is considered as an asset.
Relevant experience in programme development in child protection and gender related areas in a UN system agency or organization is considered an asset.
Experience in research and analysis, and especially monitoring and evaluation of gender, adolescents, and harmful practices.
Experience in both development and humanitarian contexts is considered an added advantage.
Fluency in English is required. Knowledge of another official UN language or the local language of the duty station is considered as an asset
For every Child, you demonstrate…
UNICEF's values of Care, Respect, Integrity, Trust, Accountability, and Sustainability (CRITAS)
The UNICEF competencies required for this post are…
Demonstrates Self Awareness and Ethical Awareness (1)
Works Collaboratively with others (1)
Builds and Maintains Partnerships (1)
Innovates and Embraces Change (1)
Thinks and Acts Strategically (1)
Drives to achieve impactful results (1)
Manages ambiguity and complexity (1)
To view our competency framework, please visit .
Click to learn more about UNICEF's values and competencies.
UNICEF is committed to diversity and inclusion within its workforce, and encourages all candidates, irrespective of gender, nationality, religious and ethnic backgrounds, including persons living with disabilities, to apply to become a part of the organization.
We offer a , including paid parental leave, breastfeeding breaks and reasonable accommodation for persons with disabilities. UNICEF strongly encourages the use of flexible working arrangements.
UNICEF has a zero-tolerance policy on conduct that is incompatible with the aims and objectives of the United Nations and UNICEF, including sexual exploitation and abuse, sexual harassment, abuse of authority, and discrimination. UNICEF also adheres to strict child safeguarding principles. All selected candidates will be expected to adhere to these standards and principles and will therefore undergo rigorous reference and background checks. Background checks will include the verification of academic credential(s) and employment history. Selected candidates may be required to provide additional information to conduct a background check.
Remarks:
Only shortlisted candidates will be contacted and advance to the next stage of the selection process. Candidates who applied before should not apply again.
UNICEF appointments are subject to medical clearance. Issuance of a visa by the host country of the duty station, which will be facilitated by UNICEF, is required for IP positions. Appointments are also subject to inoculation (vaccination) requirements, including against SARS-CoV-2 (Covid). Government employees that are considered for employment with UNICEF are normally required to resign from their government before taking up an assignment with UNICEF. UNICEF reserves the right to withdraw an offer of appointment, without compensation, if a visa or medical clearance is not obtained, or necessary inoculation requirements are not met, within a reasonable period for any reason.
Advertised: 12 Jul 2023 W. Central Africa Standard Time

Deadline: 25 Jul 2023 W. Central Africa Standard Time

Location: Nigeria

Job date: Fri, 14 Jul 2023 07:23:04 GMT

Apply for the job now!