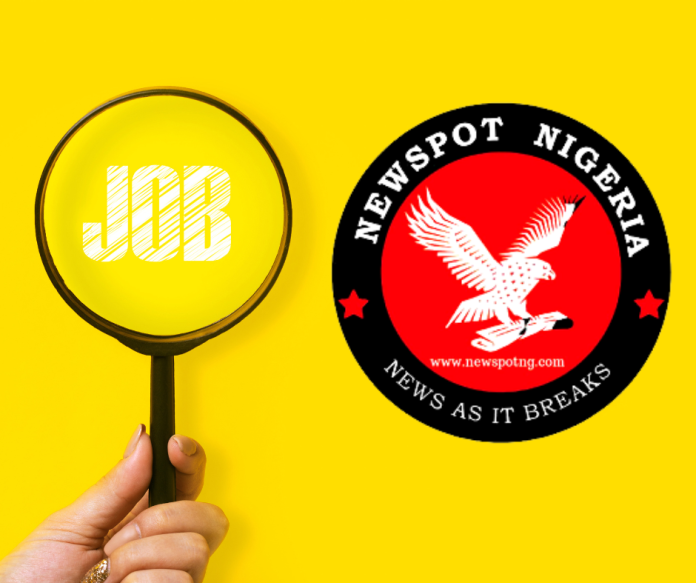 Job Vacancy: Job title: PLRCAP CONSULTANCY EXPERTS AND MENTORS

Job description: Organization
iMMAP France/3iSolution is a non for-profit organization that provides information management services to humanitarian and development organizations. Through information management, we help our partners target assistance to the world's most vulnerable populations ad we support local authorities and institutions to enhance their capacities and become autonomous in their internal data and information management activities. iMMAP France/3iSolution, is the host entity of the Nigeria INGO Forum and the PLRCAP Initiative.
Nigerian INGO Forum (NIF) NIF is an interagency network of international NGOs, established in 2014 to facilitate the coordination and cooperation of humanitarian aid and development between INGOs and among INGOs and external stakeholders including the Government of Nigeria, Nigerian civil society, UN agencies, diplomatic actors, and donors.
PLRCAP (Promoting Local Response Capacities and Partnership) an initiative of the Nigeria INGO Forum, accompanies Nigerian local and national civil society organizations in their organizational growth and development. Through its NGO Support Hub, including the Hub's digital learning tools, communities of practice, information and visibility databases, Nigerian NGOs can elaborate and progress organizational development plans, access technical assistance, learn and share with peers and experts, find partners and increase their visibility.
In addition to member support functions, the Hub runs specialized learning journeys, as developed with members and partners, as well hosts its NGO expert webinar series, every two weeks,sparking peer learning and dialogue on key topics for Nigerian civil society. To ensure its effectiveness and relevance the Hub, with its partners the Hub carries out a series of research and knowledge sharing activities, including mappings and reviews of Nigeria's civil society, identifying challenges and success strategies.
PLRCAP is seeking a highly motivated and experienced Roster of Consultants with expertise in key areas of NGO development and strengthening to develop and roll out the PLRCAP courses and provide one on one mentorship to Nigerian NGOs enrolled in the PLRCAP Learning Events.
Expertise Sought, includes (but not limited to)
Governance
Leadership
Finance Management
Human Resource Management
Strategic Planning
Resource Mobilization
Internal Communication
External Communication
Data Management
Program/Project Management
Advocacy
Monitoring, Evaluation, Accountability and Learning
Humanitarian Principles
Access
Safety and Security
Safe-guarding
Scope of work
Description of Duties
Consultants selected to the Roster, will be asked based on programmatic needs and the time availability of the consultant to carry out the following tasks:
Develop and roll out Specific PLRCAP Courses
As requested, experts will be asked to work with the PLRCAP team to develop specific Training sessions (online primarily) in their area of expertise. Courses should be integrated within the larger learning program and tailored to the needs participating NGOs. Courses in general should be geared to Executive Directors/ management level. They should be structured as expert seminars, introducing best practices in each subject matter areas, common challenges and tips/discussions as to how best to address these.
The seminars should be instructive while being as interactive as possible especially encouraging participants to share their challenges and brainstorm among themselves the solutions. Each session should be around 90 minutes.
2. Provide one on one mentorship to NGOs
Consultants will be asked to provide one on one mentorship to the participating NGOs as per their areas of expertise. All mentorship sessions should be at least one hour, driven by the objectives set by the NGOs, be appropriately prepared in advance and followed up with shared notes and follow up action points.
3. Support the NGO Support Hub Communities of Practise and Curated Resource Library
The consultants will be expected to support as they have available time the content development of the curated resource library including recommendating appropriate content, and if they have the time helping to develop tips and guidance documents. They will also be asked to help faciiliate the communities of practice through providing expert advice and posing questions as relevant.
4. Provide other expert advice as needed for program and hub development
The consultants may be called upon to provide other research or expert advice to the program, on an as needed basis and as agreed in advance with the expert and the program.
Fee Structure:
Remuneration for the courses and mentorship is based on set fee structure established per course developed and rolled out and as per hour of mentorship.
Support to the Communities and practice and Resource library are expected to be provided on a pro bono basis. All experts will however be invited to include their profile on the Hub's Expert Database, to enable NGOs at their own cost to secure needed support.
Other areas of expert advice as needed for the Hub Development will be costed within a set fee range, as per each agreed assignment.
Requirements
Education:
Bachelor's or Master's degree in a relevant field (e.g., international development, development studies, organizational development, or any area of social sciences).
Experience
Proven expertise in their areas of expertise, including have either worked in the sector within an NGO or having supported NGOs in the subject area.
Proven experience working in the non-governmental sector, preferably in capacity strengthening or organizational development roles.
Familiarity with organizational assessment tools.
Good understanding of NGO operations, including project management, fundraising, governance, and monitoring and evaluation.
Sound knowledge of adult learning principles, instructional design methodologies, and participatory approaches.
Proficiency in using relevant software and tools for training, data analysis, and knowledge management.
Soft skills
Strong facilitation and training skills, with the ability to deliver engaging and interactive learning experiences.
Strong leadership skills and entrepreneurial spirit, with the ability to conceptualize and roll out a comprehensive learning program.
Self-driven will little need for oversight.
Excellent communication and interpersonal skills, with the ability to build effective relationships with diverse stakeholders.
Accountability to Beneficiaries
iMMAP France/3iSolution personnel is expected to respect principles of accountability to beneficiaries of PLRCAP and iMMAP France/3iSolution programs, in line with international standards while actively engaging beneficiary communities as equal partners in the design, monitoring and evaluation of field projects.
Guiding Principles
Personnel is expected to respect the local culture and iMMAP France/3iSolution's policies, procedures, and values at all times. iMMAP France/3iSolution has zero-tolerance for sexual harassment, exploitation and abuse, human trafficking, child abuse and exploitation. Any violations of these principles and policies will be treated as serious misconduct. iMMAP France/3iSolution is an Equal Opportunity Employer regardless of background.

Location: Abuja, FCT

Job date: Sat, 18 Nov 2023 23:35:14 GMT

Apply for the job now!