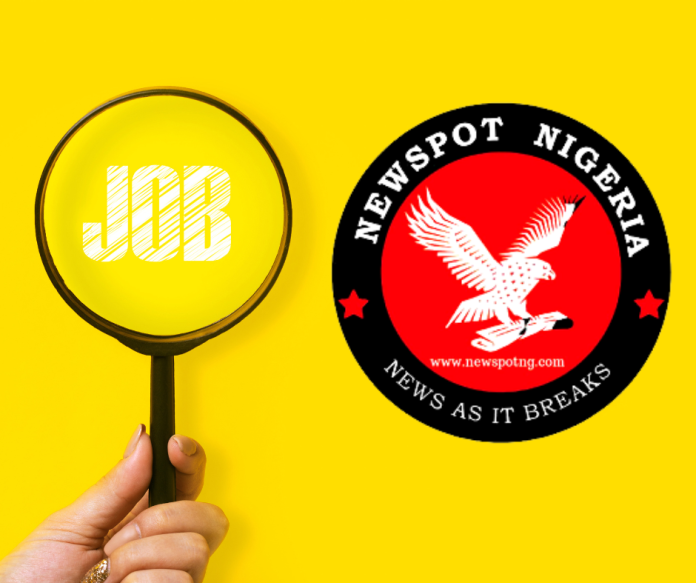 Job Vacancy: Job title: Performance Engineer M/F

Job description: SPIE Services Nigeria Limited is looking for profiles to fill the position of Performance Engineer.
Responsibilities:
Ensure full alignment with Company Rules regarding Performance in Drilling & Wells activities.
Lead internal & external performance reviews.
Champion Continuous Improvement in Drilling & Wells operations within the affiliate.
Guarantee the accomplishment of Well operations in compliance with codes of practice, safety and environmental protection, while optimizing costs and lead times.
Contribute to the return on Exploration & Production investments, through a continuous process to improve the equipment/ resource usage, services and operational procedures.
SERVICE DIMENSIONS:
Ensures personal commitment to COMPANY's policies, standards, codes of conduct & HSE requirements.
Ensure best engineering practices are deployed on Drilling & Wells operations
Prepares & reviews KPIs and Performance Indices for Drilling & Well Activities, Inspection, QAQC and Material Management (Handling, Storage Optimization).
Assist the operations teams and prepare in close collaboration with other entities (GSR, C&P, ECP, Planning, Project team, Finance etc.) medium to long term drilling plans to achieve safe and cost-effective operations.
Supports the Manager, Methods and Performance and Head, Materials and QAQC in ensuring the optimal support to Drilling & Well Operations (Rig-based, SEWOP, Barge and Rig less operations).
CO-ORDINATION
Is a key player in the Drilling Wells Improvement process (DWIP) and "Solutions for Performance" targeted at Drilling & Wells Operations.
Contributes to the LEAN, Cost rationalization and continuous improvement culture within Methods and Performance Team.
Ensures lessons learnt and best practices are captured and communicated within the Drilling & Wells Métier and to external stakeholders.
Follows well KPI and CPI database, and benchmarks operations against "best composite" performance to ensure there is sufficient value extracted from operations.
Actively Participates in monthly performance meetings
Follows up and assists in closing out any highlighted improvement actions.
ORGANIZATION
Participate in risk assessment related to Well operations. Identify and implement measures to ensure successful well delivery.
Participate in operation debriefing with the rig and contractors to capture lessons learnt, areas of improvement and disseminate experience across the team.
Participate in HSE audits, site committee meeting and incident investigations at the bases and on the rig. Promote HSE initiatives.
TECHNICAL
Good knowledge of all Drilling & Wells functions i.e. Drilling, Completions, Intervention, Well Integrity and Fluids.
Good knowledge of Company referential, industry standards and best practices required to achieve well objectives in a safe and optimum manner
Proposes new ideas and innovations for well performance improvement
Sharing information via REX
Profile
ACCOUNTABILITIES:
Track and Ensure follow-up of Operations & Cost Performance Indices ( KPI's , CPIs etc.) for all assets within Drilling & Wells ( Well Operations/ Interventions/ Support Services)
Provide support for Engineering compliant with technical referential, at adequate quality to enhance Safety, Performance and Well Delivery
Ensure that studies to improve performance are conducted and results implemented.
Assist with the optimization of activities of service providers and assess their performance when required
Assist with the planning and mobilization of resources (personnel, equipment, contracts) for the execution of approved well operations in a timely and safe manner.
Maintain good interface with other entities internal and external for the optimization of well operations
Assist with the preparation and conduct invitations to tender for service and equipment contracts for Drilling & Wells teams when required.
MINIMUM QUALIFICATIONS:
A degree in the sciences or Engineering
Minimum of 3-5 years relevant technical experience with Well engineering roles
Good knowledge of Data Analysis Tools & Methods, Communication (oral & written) and Presentation skills.
Good knowledge drilling engineering/ operations, completion engineering, well interventions and well integrity.
Good knowledge of material and equipment, QA/QC and Inspection procedure, stock management
Good knowledge of the Company rules, Guides and Manuals, General Specifications and the CMS related to Drilling and Wells, Safety, QA/QC and associated métiers
Good knowledge of Contracts and Procurement, Finance and Cost control
Good knowledge of Relevant Regulatory Authorities and Agencies in the Oil and Gas space in Nigeria and Internationally.
Working at spie
What can we offer you?
We offer a variety of stimulating and evolving experiences: exciting projects, learning from professionals and immersed in international culture.
Position location
Location
Lagos, Nigeria
Candidate criteria
Minimum level of experience required
6 years or more
Required authorisations
Medical Certificate
Languages
English (C-Professional working proficiency)
Our ambition
Combining our differences
SPIE is committed to promoting diversity. The recruitment of employees with disabilities is an important part of our HR policy.

Location: Lagos, Lagos State

Job date: Thu, 21 Sep 2023 02:53:51 GMT

Apply for the job now!