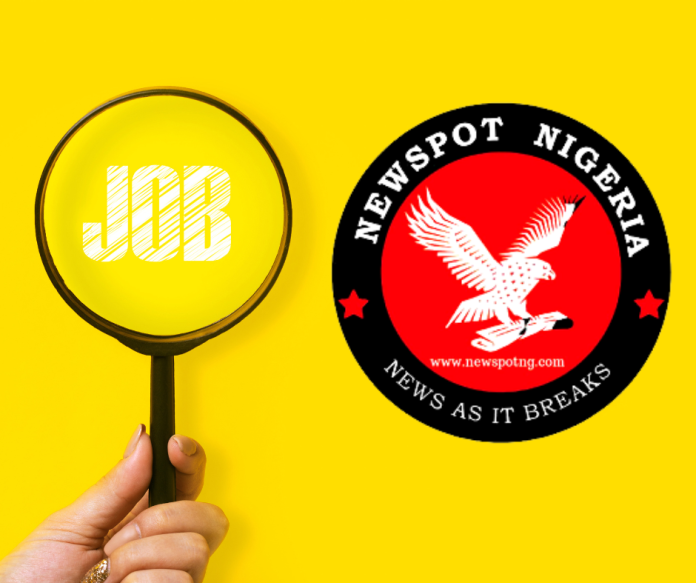 Job Vacancy: Job title: Monitoring, Evaluation & Reporting Specialist

Job description: Details:
Mission and objectives:
UNDP is the United Nations largest agency with a mandate to eradicate poverty, through sustainable and inclusive human development. UNDP has been in Nigeria since the country became independent in 1960 providing capacity building and policy development support to the Federal Government of Nigeria in areas of Governance & Peace Building, Inclusive growth, and Sustainable Development. UNDP continues to support the government in the implementation of development interventions aimed at meeting medium to long term goals enshrined in National and Subnational development plans as well as the Sustainable Development Goals. The goal of UNDP is to improve the lives of the people of Nigeria, especially the poorest and most vulnerable, and to ensure a future that offers equality, dignity, and opportunity for all. UNDP works in partnership with the federal Government of Nigeria, development partners, UN agencies, civil society and local communities to help identify local solutions to meet global and national development challenges through a range of interventions that combine UNDP's expertise and comparative advantage in the areas of Governance & Peace Building, Inclusive growth and Sustainable Development.
Context:
One of the poorest and most environmentally degraded regions in the world, the West African Sahel region is also considered as one of the world's most vulnerable regions to climate change, with temperature increases projected to be 1.5 times higher than the rest of the world. Climate vulnerability is compounded by the region's high dependence on rain-fed agriculture and its natural resources to support food security and livelihoods, high population growth, rapid and unplanned urbanization, environmental degradation, deepening poverty levels, governance challenges and low socio-economic development, and chronic humanitarian crises due to recurrent drought, flooding, food insecurity, epidemics, and violent conflict. These factors increase the fragility of communities while recurrent disasters have been causing a continuous deterioration of livelihoods, exposing people to deeper poverty and food insecurity, In this context, the United Nations Development Programme (UNDP) is seeking to strengthen the policy and institutional capacities of Western Sahel and Lake Chad Basin countries in understanding the multi-dimensional risks that the region faces and devising mechanisms that anticipate and respond to these challenges. In this regard, UNDP is implementing a regional project titled "Strengthening capacities for disaster risk reduction and adaptation for resilience in the Sahel region: fostering risk-informed solutions for sustainable development" (Sahel Resilience Project), which is anchored in the Regional Programme for Africa. The expected outcome of this regional initiative is that regional institutions and national governments have institutionalized and domesticated risk-informed development planning, programming, and investment for resilience building. The geographical scope of the project is constituted by seven countries in Western Sahel and Lake Chad Basin region: Burkina Faso, Chad, Mali, Mauritania, Niger, Nigeria, and Senegal. Funded by the Government of Sweden, the Sahel Resilience Project proposes to strengthen the regional capacity in fostering risk-informed development through a multi-country approach. Building on Phase 1 of the Project (2019 – 2022), Phase 2 of the Project – until March 2025 – will continue to advance the five key output areas focused on data for decision making, risk governance, recovery preparedness, urban resilience and regional engagement for knowledge exchange. In this context, the Sahel Resilience Project is seeking to recruit a Monitoring, Evaluation and Reporting Specialist, an International United Nations Volunteer (IUNV) who will support the Project Team in quality assurance, monitoring, and reporting of the Project. The IUNV Specialist will be based in Abuja, Nigeria and will work under the direct supervision and will report to the Project Manager. S/he will work daily with the DRR Technical Specialist and Urban Resilience and Recovery Preparedness Technical Specialist as well as other team members and liaise with the national project coordinators, database experts, team leaders at UNDP Country Offices in the Project countries as well as the designated focal points in the partner organizations for effective implementation of annual work plan, and the related monitoring, evaluation, and reporting.
Task description:
Within the delegated authority and under the supervision of the Project Manager, the Monitoring, Evaluation and Reporting Specialist is expected to perform the following tasks: • Collect, synthesize, and monitor information on the progress made in the project implementation at regional and national level for all five output areas. • Review documents and reports submitted by implementing partners, ensuring their timely submission and maintaining a standard of high quality. • Contribute to project planning in close collaboration with the Project team at regional and national levels. • Monitor continuously the workplan implementation based on activities and results indicators and targets, including analysis of gaps, and accordingly proposes to the Project team of corrective measures, when required. • Provide timely information on progress and results by compiling, organizing, analyzing, monitoring, and preparing quarterly and annual progress reports. In addition, contribute to drafting inputs on behalf of the Project to all corporate reports substantiated by strong data and evidence, in consultation with the regional and national team members. • Maintain appropriate documentation of all Project -related documents in the Project's online shared folder. • Provide technical support in updating the progress reporting system for the purpose of internal and external audits. • Support in collating necessary and relevant information during auditing processes. • Create mechanisms to ensure a good flow of information on project implementation between the national level and the regional level. • Provide regular information and data for updating UNDP platforms. Support in any other activity to advance Project implementation
Requirements:
disaster risk reduction, climate change, livelihoods, agriculture and livestock, and/or natural resource management; environment; cartography, international development, public policy/administrative, disaster risk reduction and/or climate change or related field.
Competencies and values:

Professionalism: demonstrates professional competence and mastery of subject matter, is conscientious and efficient in meeting commitments, observing deadlines and achieving results, shows pride in work and in achievements, is motivated by professional rather than personal concerns, shows persistence when faced with difficult problems or challenges, remains calm in stressful situations, discretion, political sensitivity, diplomacy and tact to deal with clients; ability to liaise and coordinate with a range of different actors, especially in senior positions; where appropriate, high degree of autonomy, personal initiative and ability to take ownership, ability to manage information objectively, accurately and confidentially; responsive and client-oriented. • Integrity: demonstrate the values and ethical standards of the UN and UNDP in daily activities and behaviours while acting without consideration of personal gains; resist undue political pressure in decision-making; stand by decisions that are in the organization's interest even if they are unpopular; take prompt action in cases of unprofessional or unethical behaviour; does not abuse power or authority. • Teamwork and respect for diversity: works collaboratively with colleagues to achieve organizational goals, solicits input by genuinely valuing others' ideas and expertise; is willing to learn from others, supports and acts in accordance with final group decision, even when such decisions may not entirely reflect own position, ability to establish and maintain effective partnerships and harmonious working relations in a multi-cultural, multi-ethnic, mixed-gender environment with sensitivity and respect for diversity. • Commitment to continuous learning: initiative and willingness to learn new skills and stay abreast of new developments in area of expertise; ability to adapt to changes in work environment. • Planning and organizing: effective organizational and problem-solving skills and ability to manage a large volume of work in an efficient and timely manner; ability to establish priorities and to plan, coordinate and monitor (own) work; ability to work under pressure, with conflicting deadlines, and to handle multiple concurrent projects/activities; • Communication: speaks and writes clearly and effectively, listens to others, correctly interprets messages from others and responds appropriately, asks questions to clarify, and exhibits interest in having two-way communication, tailors' language, tone, style and format to match the audience, demonstrates openness in sharing information and keeping people informed.
Location: Nigeria

Job date: Sun, 19 Nov 2023 00:21:22 GMT

Apply for the job now!