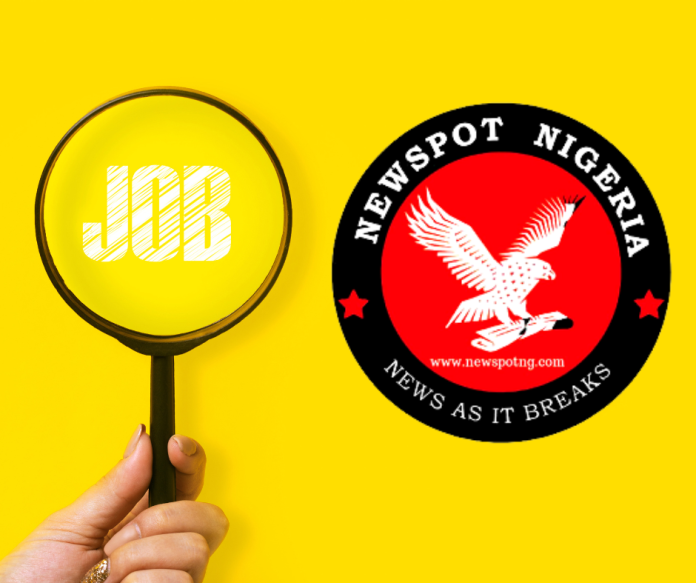 Job Vacancy: Job title: Logistics Officer Job at Mercy Corps

Job description: Mercy Corps is a leading global organization powered by the belief that a better world is possible. In disaster, in hardship, in more than 40 countries around the world, we partner to put bold solutions into action helping people triumph over adversity and build stronger communities from within. Now, and for the future.
We are recruiting to fill the position below:
Job Position: Logistics Officer
Requisition Number: LOGIS004414

Job Location: Abuja (FCT)

Job Category: Operations, Procurement, Logistics

Position Status: Full-time, Regular

Reports Directly To: Operations Director

Supervisory Responsibility: Logistics Assistant
Program / Department Summary
Mercy Corps has been present in Nigeria since 2012, focusing its interventions on humanitarian assistance, economic development, and conflict mitigation. With the ongoing insurgency in Northeast Nigeria causing the displacement of millions of individuals, Mercy Corps started its humanitarian response in 2014 to address the rising humanitarian needs.
As the crisis has persisted, Mercy Corps' strategy has also expanded to address the root causes of the conflict and seek to build the long-term resilience of communities with integrated programs focusing on governance, the recovery of markets and livelihoods, social cohesion and social protection, youth empowerment, and local conflict management.
The Operations department is committed to implementing and maintaining the highest standards of efficiency and integrity in the logistics, Administration and procurement of goods and services for country office in Abuja, Nigeria.
The overriding objective for all Mercy Corps procurement, logistics and Administration activities are the prompt and effective provision of procurement, logistical and administrative solutions as well materials and services to Mercy Corps' beneficiary populations in compliance with Mercy Corps' and donor policies, procedures, regulations, and specifications.
General Position Summary

The Logistics Officer will:
Assist Asset Controller and Operations Director in strategic planning for the organizations assets needs.
Provide monthly reports of Generator Use, Fleet Management, Facility Lease Management, Courier, and Shipping.
Follow up with the Finance Unit to ensure that service providers' accounts are settled on time.
Read and has a clear understanding of the Mercy Corps Field Asset Management Policy, Field Facilities and Office
Management Policy, Field Warehouse Management Policy.
Field Finance Manual Expatriate Housing Policy, Expatriate Team Handbook, and country Approval Authority Matrix.
Play additional support role in the operations department such as procurement, warehouse management, facility, logistics and operations.
Essential Job Responsibilities

Fleet Management:
Insurance (Vehicle Insurance Contract Management, renewal, and Claims)
Coordinating Vehicle Registration (New Vehicle Registration, Equipping, Tracking, Marking and Renewal)
Coordinating Maintenance/Servicing (Monitoring daily vehicle checks, Routine Vehicle Servicing,
Monitoring Fuel Management (Fuel Top up Card Management, Report on Fuel Consumption, Monthly Fuel Private Mileage Reporting, and Generator.
Log Sheet Management (Daily Monitoring of vehicle Log Sheet, Review of Vehicle Log Sheets, Reporting on Vehicle Log Sheets Monthly to finance)
Supervise Car Hire Services management, (Contract Management, Monitoring of Car Hire vehicles and drivers in line with MCN Standard, Logistics Arrangement – Assign Care Hire where needed, Process Payment, Maintenance of Feedback mechanism)
Fleet Documentation Management: Maintain records for all vehicles.
Supervision of Logistics Assistant.
Warehouse Management (Programs Item & Asset – ICT items):
Receive goods and cross check the quantity with the good receive note.
Maintain and update stock release on daily basis.
Dispatch goods from the warehouse using appropriate MC procedures, Store Release forms, Waybills.
Do proper stacking of items in the warehouse to ease the physical counting.
Conduct monthly physical counts of the items in the warehouse.
Maintain and ensure the stock cards and bin cards in the Warehouse are updated on daily basis.
Ensure the warehouse is clean and free from any infestation.
Assets Management:
Assistant The Asset Controller in managing, tracking assets and regular inventory,
Assist the Asset controller in physical and financial reconciliation of all assets, accurate record keeping of all assets, donor assets and exceptional items that require registration and movement tracking.
Asset Movement: support in filling asset movement forms.
Responsible for the timely preparation of documentation of any movement of assets in Mercy Corps formats.
Physical Count: support Conduct quarterly random asset check in all field offices,
Asset Tracking: maintain the stock of Mercy Corps assets that are not checked out and in use.
Assist in asset Registration in Abuja.
Assist asset in regular inventory tagging.
Asset Exit: checking in/out Mercy Corps owned equipment to authorized staff using the standard Mercy Corps procedures and forms outlined in the Asset Management Manual.
Asset Disposal: support by ensuring all lost, damaged, sold, stolen (or other) items are properly recorded in with an approved Disposal Assets form.
Facility Acquisition:
Receive Property Selection Request/information.
Property Lease Initiation Request (PLIR)
Draft Contracts
Process payment
Conduct and analyze Property Selection
Raise Property Selection Memo
Coordinating lease agreements
Lease agreements renewal.
Generator:
Initiate procurement of generators using the provisions in FP3 and donor rules and regulations in some cases.
Work with the Hops to determine operating hours based on the local needs, cost of fuel, cooling off time required for generators and in some cases the security circumstances.
Maintain and track daily and report monthly diesel and Consumables Purchase Log.
Maintain Diesel Supply and Generator Repair/Maintenance Master Agreement contract.
Diesel Management of generators by supporting, managing and monitoring diesel consumption of generators, ensuring no poor handling and storage, poor mechanical condition of the generators or overload situation.
Maintain Generator Log Sheets, (running logs, repair, and maintenance)
Ensure Diesel storage is allowed within the country / regional law and ensure risk mitigation for fuel stored as against fire risk.
Monitor the warranty and guarantee details of generators.
Courier/Shipment:
Engage Service provider for dispatch Services.
Receive dispatch requests.
Shipment tracking.
Process dispatch Provider Services Payment.
Review and Monitor Courier Service Providers contract.
Others:
Conduct himself/herself both professionally and personally in such a manner as to bring credit to Mercy Corps and to not jeopardize its humanitarian mission in Nigeria.
Other duties as assigned.
Accountability:
Accountable for Mercy Corps Field Procurement Manual, Field Asset Management Manual, Fleet Management and Warehouse Management Policy Guidelines and other in-country policies and procedures in logistics and procurement management as well the MC Code of conduct regarding procurement activities and MC Conflict of Interest policy.
Accountability to Participation and Stakeholders:
Mercy Corps team members are expected to support all efforts toward accountability, specifically to our program participants, community partners, other stakeholders, and to international standards guiding international relief and development work.
We are committed to actively engaging communities as equal partners in the design, monitoring and evaluation of our field projects.
Knowledge and Experience
A Degree in a relevant Business field is desired.
2-3 years of experience in Inventory Management, large scale Logistics operations, or office administration.
A clear understanding of procurement ethics and donor compliance is essential.
Previous experience in fleet management.
Strong organizational skills: ability to interact effectively with international and national personnel.
Excellent oral and written English skills. Strong computer skills in MS Excel, MS Access, and MS Word programs.
A demonstrated ability to multi-task and process information into action so as to not delay program activities.
A willingness to travel throughout the project areas in the assigned Area of Responsibility
Success Factor:
Conscientious with as excellent sense of judgment
Ability to work simultaneously on multiple tasks.
Willingness and ability to work effectively with a wide variety of people.
Ability to work as part of a team and coordinate with project personnel.
Good spoken and written English
Computer literate and strong organizational skills
Organizational Learning:
As part of our commitment to organizational learning and in support of our understanding that learning organizations are more effective, efficient and relevant to the communities they serve, we expect all team members to commit 5% of their time to learning activities that benefit Mercy Corps as well as themselves.
Diversity, Equity & Inclusion:
Achieving our mission begins with how we build our team and work together. Through our commitment to enriching our organization with people of different origins, beliefs, backgrounds, and ways of thinking, we are better able to leverage the collective power of our teams and solve the world's most complex challenges.
We strive for a culture of trust and respect, where everyone contributes their perspectives and authentic selves, reaches their potential as individuals and teams, and collaborates to do the best work of their lives.
We recognize that diversity and inclusion is a journey, and we are committed to learning, listening and evolving to become more diverse, equitable and inclusive than we are today.
Equal Employment Opportunity:
Mercy Corps is an equal opportunity employer that does not tolerate discrimination on any basis. We actively seek out diverse backgrounds, perspectives, and skills so that we can be collectively stronger and have a sustained global impact.
We are committed to providing an environment of respect and psychological safety where equal employment opportunities are available to all.
We do not engage in or tolerate discrimination on the basis of race, colour, gender identity, gender expression, religion, age, sexual orientation, national or ethnic origin, disability (including HIV/AIDS status), marital status, military veteran status or any other protected group in the locations where we work.
Safeguarding & Ethics
Mercy Corps is committed to ensuring that all individuals we come into contact with through our work, whether team members, community members, program participants or others, are treated with respect and dignity.
We are committed to the core principles regarding the prevention of sexual exploitation and abuse laid out by the UN Secretary-General and IASCand have signed on to the Interagency Misconduct Disclosure Scheme. We will not tolerate child abuse, sexual exploitation, abuse, or harassment by or of our team members.
As part of our commitment to a safe and inclusive work environment, team members are expected to conduct themselves in a professional manner, respect local laws and customs, and adhere to the Mercy Corps Code of Conduct Policies and values at all times. Team members are required to complete mandatory Code of Conduct e-learning courses upon hire and on an annual basis.
Note
Applicants should have their CVs and Cover Letters in one document addressing the position requirements.
Location: Abuja, FCT

Job date: Sun, 19 Nov 2023 06:17:04 GMT

Apply for the job now!