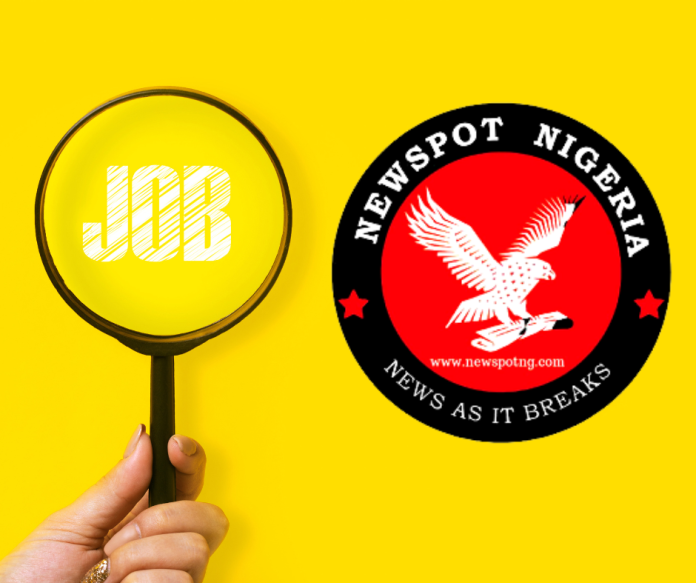 Job Vacancy: Job title: Inventory Specialist Job at Wasche Point Laundry Limited

Job description: Wasche Point Laundry Limited is a worldclass standard laundry company that provides a wide range of services to working-class individuals across Nigeria. Our services include: Dry Cleaning, Laundry, laundromat and Alterations. We cater to all laundry needs through our wide range of services such as Laundry, Dry Cleaning, Laundromat, Alterations, Wedding Dress Care, Leather, and Suede Care.
Our establishment is equipped with state-of-the-art facilities, such as: high-efficiency washers and dryers, supported by advanced technology to make clean laundry less of a chore, and an alteration unit manned by well-experienced tailors to tackle fabric faults. Our avant-garde facility has a cozy lounge, fully air-conditioned laundry rooms, do-it-yourself laundry service, coffee/juice bar, "free Wi-Fi, spacious parking lot, customers are sure to have an enjoyable and relaxed washing experience while they get their laundry done". We pride ourselves in being the "Best Lagos Laundry and Dry Cleaning in Lekki."
We are recruiting to fill the position below:
Job Position: Inventory Specialist

Job Location: Lekki, Lagos

Employment Type: Full-time
Overview
We are seeking a detail-oriented and highly organized Inventory Specialist to manage inventory documentation and storekeeping responsibilities.
The ideal candidate will ensure accurate record-keeping, efficient inventory management, and proper storage of goods.
Key Responsibilities
Maintain accurate records of inventory levels, movements, and transactions using designated software or manual systems.
Regularly update inventory databases or systems to reflect current stock levels and transactions.
Implement efficient storage methods to optimize space utilization.
Conduct regular inventory counts and reconciliations to maintain accuracy in documentation and physical inventory.
Identify and investigate discrepancies between inventory records and physical counts, taking corrective actions as necessary.
Ensure compliance with regulatory requirements and company policies regarding inventory documentation and record-keeping practices.
Generate reports detailing inventory status, discrepancies, and adjustments as required.
Oversee the physical storage and arrangement of inventory items in accordance with safety and accessibility standards.
Ensure proper labeling, coding, and categorization of stored items to facilitate easy retrieval and inventory accuracy.
Assist in audits by providing necessary documentation and support to auditors.
Coordinate with procurement, logistics, and other relevant departments to ensure accurate and timely documentation of incoming and outgoing inventory.
Education
High School Diploma or equivalent; additional certifications in inventory management or related fields are a plus.
Requirements:
Proven experience (1-2 years) in inventory management, documentation, or storekeeping roles.
Proficiency in inventory management software and MS Office Suite.
Strong attention to detail and accuracy in record-keeping.
Excellent organizational and time management skills.
Ability to work independently and collaboratively in a team environment.
Knowledge of inventory control best practices and familiarity with regulatory compliance in inventory management.
Remuneration

N50,000 – N90,000 Monthly.
Method of Application

Interested and qualified candidates should send a copy of their CV to: using "Inventory Officer" as the subject of the email.
Note: Regular working hours with occasional flexibility required for inventory counts or urgent situations.

Location: Lekki, Lagos State

Job date: Sun, 19 Nov 2023 05:05:44 GMT

Apply for the job now!