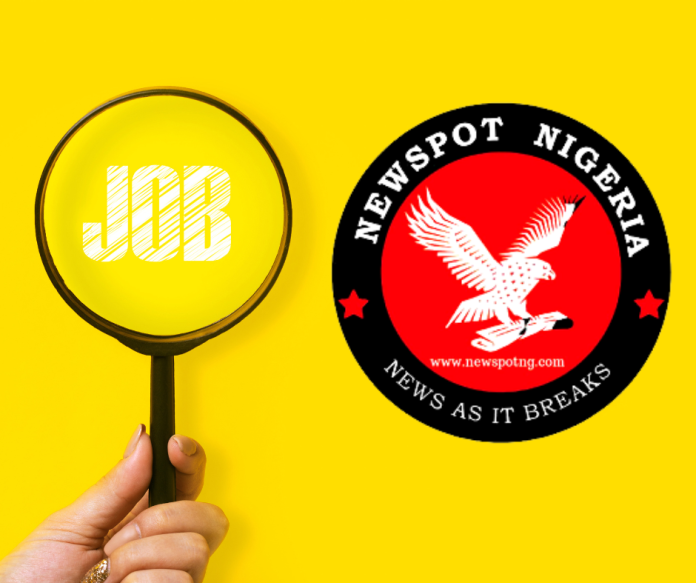 Job Vacancy: Job title: Customer Interaction and Resolution Analyst Job at IpNX Nigeria Limited

Job description: ipNX is one of Nigeria's fastest growing Information and Communications Technology companies, serving a multitude of needs across enterprises, small businesses and residents with innovative, world-class services.
We are recruiting to fill the position below:
Job Position: Customer Interaction and Resolution Analyst
Job Location: Lagos

Employment Type: Full-time

Division: Retail

Job Grade: Perm staff

Work Schedule: Flexible

CEA Reporting to: Head CEA

Function: Customer Experience & Advocacy
Purpose of the Job

At ipNX, Customer Resolution and Close loop is about Managing the customer's open log of complaints / requests and "aggressively demanding" for the resolution.
The role holder has the responsibility of organizing the structures, processes and procedures for exceptional complaint handling.
He/She will therefore require sound knowledge & experience of managing a resolution team.
The customer resolution and close loop analyst has the responsibility of tracking every customer complaint till closure.
He/She does not rest until every single complaint is resolved.
This role is one where the resolution team serves the critical functions of being; a point, providing insights on customers at risk of churn, repeated complaints with a defined proactive approach to process and governance in order to ensure customer satisfaction & retention.
Deliverables

Expected Key Results
Execute Strategy for reduction of churn through the managements of At Risk Customers.
To design and implement strategies to identify customers who are at risk of churn due to repeated complaints till issues are resolved so ipNX differentiates herself through the quality and structure of support/experience offered by the resolution team. Our objective is to ensure that customers:
Trust in ipNX's ability to be proactive.
Do not have to follow up on their faults
Look out for and Monitor trends across the network
To assist with the completion of regular complaints & correspondence reports, by collating information from supporting systems.
To use your initiative, knowledge and judgment to assess and resolve problems, including prompt escalation to managers as required.
Analyze surveys, voice of the customer, rfos and observe trends peculiar to customers, segments, plans, regions etc
Root Cause Analysis:
Research, ensure learning is used to drive service improvement whilst identifying emerging complaint themes and followingrecommendations through to implementation.
To engage with colleagues from other teams promptly and proactively, including managers, gather information required to fully investigate and respond to Customer inquiries, complaints and requests.
Management & Training of the Team on outbound interactions for the purpose of surveys, feedback on touchpoint engagement and insight into contacted communities
Communicate the value of customer advocacy internally; this includes articulating advocacy contributions to executive-level audiences.
Seek opportunities to increase the use of the knowledge base, and ensure that all relevant employees have access to knowledge that enable them deliver to their targets.
Customer Support Operations
Develop a successful measurement and reporting process to demonstrate the value and impact of the customer Interaction and
Resolution Team
Customer Relationship Management Analyze repeated complaints, prioritize them and determine which ones require immediate attention.
Maintain a balance between protecting ipNX's business interests and promoting consumers' need for superior services.
Represent customers' interests at executive management meetings and business strategy sessions.
Escalate critical issues concerning customer relationships and ensure lasting solutions.
Customer Satisfaction:
Using complaint & customer experience data to drive customer service delivery improvement projects.
Investigating and ensuring customers' problems, which may be complex or long-standing are flagged and resolved.
Keep abreast of changes to policy, procedures, and services, preparing and delivering appropriate communication of these changes.
The preparation of reports and statistics as required, including assessing and reporting on the effectiveness and outcomes achieved from team activities.
Service Delivery Performance Measurement
Participate and be involved in applicable industry conferences both internally and externally.
Evaluate the effectiveness of internal and external communications and engagement on a regular basis, ensuring continual improvement.
Review the methods to ensure that they are appropriate for keeping customers and colleagues up to date and engaged.
Analyze statistics or other data to determine the level of customer service and experience being provided for decision making.
Generate real-time data on observed trends (e.g. complaint frequency, recurring locations, plan etc where complaints are observed) for business decisions and initiatives.
Adhoc Assignments:
Carrying out any other tasks as may be assigned by the line manager.
Educational Qualifications & Functional Skills
Candidates should possess a Bachelor's Degree in Business Administration, Sales or related field (2.2 / Upper Credit Minimum)
A proven team player who can navigate organisational complexities of external stakeholders and facilitate a path for effective engagement
A proven team player who can work effectively with teams across the organization and can collaborate effectively with external stakeholders.
Effective written and verbal communication skills in English including report-writing and creating presentations for senior executives.
Ability to build successful relationships at all levels
Work Experience:
Minimum of 2 years of experience in customer support or related field.
Excellent verbal and written communication skills.
Ability to work well in a team environment and collaborate with other departments.
Strong attention to detail and ability to follow processes and procedures accurately.
Strong problem-solving skills with the ability to think on their feet and find creative solutions.
Location: Nigeria

Job date: Wed, 24 May 2023 05:28:56 GMT

Apply for the job now!