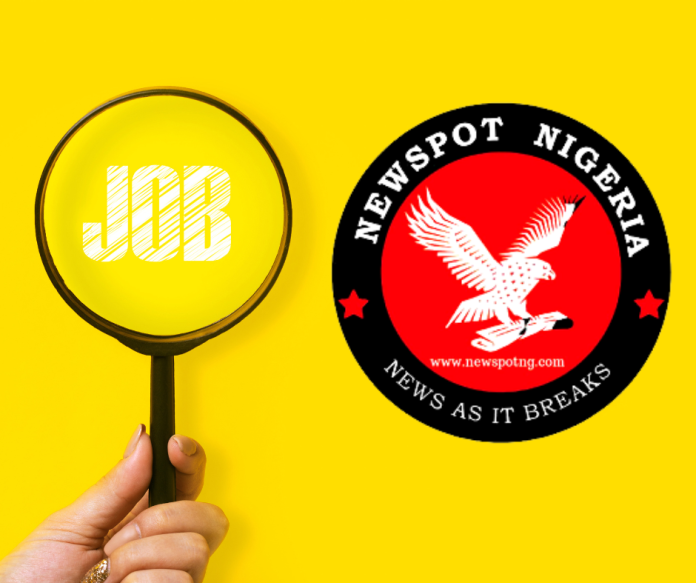 Job Vacancy: Job title: Administration Assistant Job at Save the Children

Job description: Save the Children is the leading independent organization for children in need, with programs in over 120 countries. We save children's lives. We fight for their rights. We help them fulfil their potential. Save the Children is working in Nigeria because one in five children in Nigeria dies before their fifth birthday. About 40% of children miss out on school and have to work to survive while nearly 2 million children have lost one or both parents to an AIDS-related disease.
We are recruiting to fill the position below:
Job Position: Administration Assistant
Job Location: Katsina

Employment Type: Full-time

Grade: 5
Child Safeguarding

Level 3- The responsibilities of the post may require the post holder to have regular contact with children or young people and, in the overseas context all posts are considered to be level 3 posts in view of potential situations which may allow staff unsupervised access to vulnerable children and young people.
Role Purpose
To provide professional general administration support to Katsina field office under the supervision of the HR / Admin Officer.
The job holder will also from time to time be delegated other HR support duties.
Scope of Role
Reports to: HR/Admin officer with a technical report to the CO Admin Manager, Nigeria
Staff directly reporting to this post: None.
Key Areas of Accountability

General Administration:
Support and monitor usage of all office equipment & supplies by ensuring that the equipment's in the office are working well and promptly reporting any malfunctions/repairs needed/changes to be made as they arise, and supplies replenished promptly.
Maintain general office equipment tracker: regularly evaluate and request for repairs/replacement as and when required.
Disseminate formal communications to staff as directed by Line Manager
Ensure that meeting rooms for receiving guest and staff are kept clean and usage managed.
Take minutes of the weekly staff meeting
As directed by Line Manager. Prepare meeting agendas, track actions and key dates.
Provide support to the Team Leader including diary and inbox management, arranging meetings, dealing with enquiries as requested.
Carry out the filing of relevant materials and documents.
Ensure that the front desk/reception is always kept tidy and presentable with all necessary materials (Pen, paper, visitors form etc.)
Coordinate team members to ensure that external guests are promptly attended to. Avoid prolonged stay of guest at the reception.
Receive SCI staff visiting the Katsina office and provide workspaces and relevant supplies as maybe required.
Assist the HR/Admin Officer in event planning and coordination – support program staff during workshops and events (local, internal and external – e.g., booking venue/room, setting up conference calls e.t.c and ensuring action points are shared in good time.
Supports the HR/Admin officer in supervising office Assistants and or cleaners to ensure office premises/guest houses and environs are clean and well maintained.
Ensure required cleaning items and toiletries are always available.
Ensure the Katsina Office is well equipped, has sufficient levels of supplies (consumables, stationery & equipment etc).
Ensure compliance with Save the Children Quality Standards, Global policies and Guidelines.
Assist in the purchase of small sundry office supplies from Petty Cash for the office at large, and process invoices and expense claims as required.
Perform other duties and responsibilities as assigned by Line Manager.
Store Management:
Assist in managing stationery items and consumable stores effectively and efficiently.
Receive requisition and provides supplies to concern staff.
Issue out and support with requested items for training/workshop/meeting based on filled training form.
Support the HR/Admin officer in managing the gift register.
Travel Arrangement:
Support in coordinating requests from programme team members/visiting staff for local flight and hotel booking.
Assist in liaising with the required hotel facilities to find the best options available and ensure value for money.
Support in ensuring that consultants, vendors and service providers invoices are promptly processed and paid in a timely manner in accordance with SCI payment terms and terms of reference (travel agencies & Hotels).
Other Responsibilities:
The post holder may carry out other duties in addition to, or instead of those outlined above which may reasonably be required from time to time, in order to assist HR, Admin and Supply Chain department by providing cover when any of the colleagues are on leave or because of increased level of Field Office activities.
Support in managing the Admin Department's Petty cash
Ensure constant availability of petty cash.
Zero tolerance for claiming of unapproved petty cash.
Ensure timely retirement.
Working contacts:
Internal: Regular liaison with various teams in the CO and other state offices
External: Contact with visitors, hotels, airlines/travel agents etc
Competencies and Behaviours

Delivering Results (Skilled):
Delivers timely and appropriate results using available resources.
Takes responsibility for their work and its impact on others.
Plans, prioritises and performs tasks well without needing direct supervision.
Understands the link between their work and the organisation's objectives.
Innovating and Adapting (Skilled):
Suggests creative improvements and better ways of working.
Seeks out and applies successful ideas from others to overcome challenges.
Shifts tasks, roles and priorities to perform effectively under changing or unclear conditions.
Applies lessons learned to enhance future ways of working.
Applying Technical & Professional Expertise (Skilled):
Delivers work that reflects a good knowledge and application of technical and professional standards.
Keeps up to date with trends in their work area.
Maintains ethical and professional behaviour in accordance with relevant codes of conducts.
Working Effectively with Others (Skilled):
Actively listens to new and different perspectives and experiences of those they work with
Proactively supports team members and trusts their capabilities.
Demonstrates understanding of their skills and how they complement those of others within diverse teams and groups.
Clarifies their role and responsibilities within the team to maximise impact.
Communicating With Impact (Skilled):
Actively listens and seeks to understand before being understood.
Ensures communications are concise and well-structured.
Shares appropriate relevant and timely information with others.
Prepares effectively for meetings.
Skills & Experience

Administrative & General Skills
Level of Education: HND / B.Sc. in Social Sciences / relevant field of studies.
Minimum of one year of relevant work experience.
Must have NYSC Discharge Certificate / exemption certificate.
Excellent interpersonal and communication skills; written and verbal communication; fluent in English.
Understanding the local language is an added advantage.
Strong teamwork, with the ability to support colleagues and request support as and when required.
Commitment to Save the Children mission, vision and values.
Excellent planning and organisational skills, with proven administrative skills.
Ability to manage competing priorities effectively in a constantly changing environment, meet deadlines and work calmly under pressure.
Location: Katsina, Katsina State

Job date: Mon, 20 Nov 2023 00:56:19 GMT

Apply for the job now!