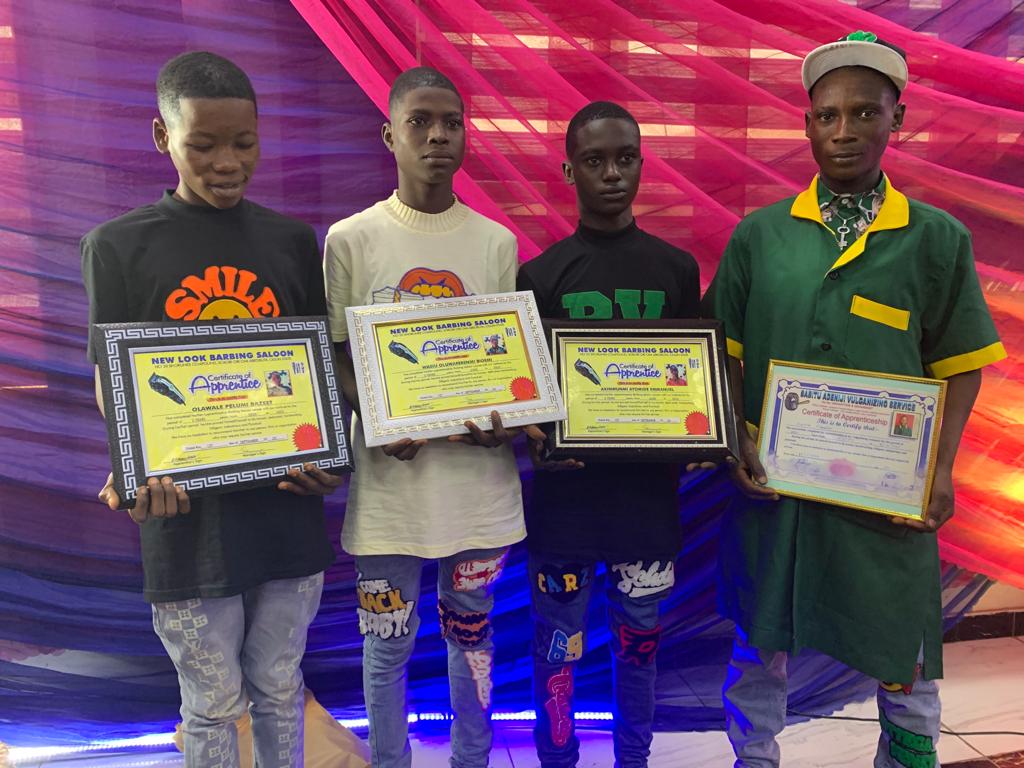 A Non-governmental organisation, Global Support for Kids Initiative (GSK) has assured that it will continue to take steps at bridging the gap between the street children and their parents, just as the organisation turned out four graduates under its vocational scheme.
The Executive Director of the organisation, Opeyemi Olowookere gave the assurance during graduation of four children offered sponsorship to learn barbing and vulcanizing training in Abeokuta, Ogun State Capital, adding that such gestures and opportunities remain the ultimate goal of the organisation
The beneficiaries of the community based organisation under the Child Protection Network (CPN) in Ogun State Chapter includes Adeyemi Lekan, who had training in vulcanizing, while Olawale Pelumi, Akinwunmi Ayomide, and Wasiu Feranmi were trained in barbing
Oloowokere added that Global Support for Kids Initiative has taken more children into it's custody and will graduate more who will complete their training soon, explaining that six new street children have been selected to begin trainings on different vocational skills.
The Director for Child Development Services, Ministry of Women Affairs, A.A Ajala who was represented by K.O Ibrahim in her goodwill message emphasized the need for self-determination on the part of the students adding that it would assist them in having self-control over their lives and future.
"As you are completing some stages in life i want you to bear the act of self-control determination in mind. I repeat self-determination will assist you on having control over your life and future and this is where believing in yourselves will set in" she said.
"It is important to understand that self-determination usually contributes to positive result in area like education and an improved quality of life self-determination will assist you in setting your goals, achieving it and you would be free from the act of "I CANT", Ajala emphasised.
The Director however urged them to be ambitious and self-determined expressing optimism that nothing can limit them other than themselves.
The National Coordinator, Child Protection Network Nigeria (CPN) Peju Osoba in her remarks urged the beneficiaries' parents to assist them to grow by not putting burdens on them owing to their new status, noting that the growth and success the beneficiaries will record will be determined by the contributions of their guardians.
Osoba, who was the pioneer chairperson of Child Protection Network (CPN), and member of board of trustees of the network told the beneficiaries of the sponsorship as a new phase in their lives and as such should be allowed to mature before the demands of life.
The Country Director of the establishment. Adebisi Olamiposi earlier in her welcome address pointed out that the Orphan and Vulnerable Children graduation is one of the organization major achievements on the street-connected children and like every other organization within the State has an intense desire and determination to help make a difference in every life that comes our way.
Olamiposi, however, advised the beneficiaries and other students on the need not to return to their previous bad lifestyle and mind the kind of company they keep.
Meanwhile, other dignitaries in attendance include, Osho representing the Nigerian Security Civil Defence Corps(NSCDC), Supretendent of Police, Sirajo Bello representing the Lafenwa Railway station, representative from Astra Polaris Bank and GraceWaters academy as well as Okubukola Adejumo, Chief Executive Officer, Beckywrens World, a Capital market consultant.