Some angry students of the Federal University of Akure (FUTA) descended on an infamous thug they accused of bullying and extortion.
The bloodied and swollen face of the thug nicknamed "Tallest" was shared online after he was apprehended and beaten by the students who said they had been constantly terrorized by the suspect and his gang who are neither students of the school.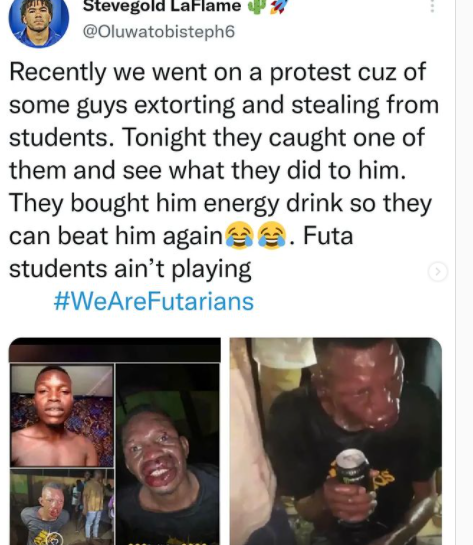 It was gathered that Tallest is a member of a syndicate known for harassing students outside the school premises, and always collected money and phones from students before letting them walk freely. The students also said they resorted to protesting after the extortion became unbearable, but the protest had no effect on the activities of the thugs.
Tallest met his waterloo on Tuesday night, Feb 1, after he tried to extort some sets of students who refused to give in but fought back. His crew members identified as K-faction and Quadr were said to have taken to their heels leaving Tallest behind when the confrontation began.
He has been handed over to Amotekun operatives in Akure, Ondo State.
Share your story or advertise with us: Whatsapp: +2347068606071, 2348053062268, Email: info@newspotng.com
--Recommended Articles--