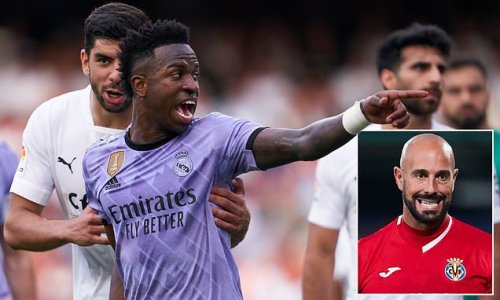 Former Liverpool goalkeeper Pepe Reina has told Vinicius Jnr he must be 'more mature in his behaviour' amid the racism scandal that rocked the Spanish football.
Real Madrid's Brazilian winger was racially abused by Valencia fans during last Sunday's La Liga match at the Mestalla.
But Reina, who now plays for Villarreal, said the Brazilian should be 'more mature' in his behavior and not 'provoke' rival fans. He also suggested that Vinicius would gain more respect if he stopped 'provoking' opposition fans and protesting to the referee.
Reina, 40, condemned the racist abuse and called for the fans responsible to be banned for life, but insisted that 'Spain is not racist.'
Speaking to Marca, Reina said: 'First and foremost, any racist behaviour must be stopped. But then, I do not believe that there is racism in all the stadiums in Spain or that an entire stadium is racist.
'Those four, eight or one thousand who called Vinicius a 'monkey' must be condemned. It is sad that this happens.
'Having said that, I see that sometimes it's not just racism, it's not that a fan is racist or not, but rather that they take it out on a specific player, because he can talk too much at one point.
As a general reflection, the less you provoke the stands, the less you provoke the rivals and the less you protest to the referee, the more respect you will have from everyone.
'I think he [Vinicius] must be more mature in his behaviour, in having more respect for his rivals. It can't be that every game away from home is a war for him.'
Asked if he thought Spanish football was racist, Reina added: 'There is racism in England, France, Italy… and we must fight against it, actively and resolutely. Exclude them from soccer.
'Because there are 'dummies' in many fields – that is why exemplary sanctions must be applied: closing stadiums, stopping matches.
'That seems perfect to me, but I also think that not everything is racism.
'Spain is not racist, or at least not more racist than other countries, although there are the racist attitudes of some fools.'