Advertisement
Posted by Dende
12th January, 2022   |   Comments
The Governing Council in her meeting of 15 to 17 December 2021 has approved an upward review of tuition, Consultancy and Acceptance fees for ND and HND students,
Below is the breakdown of the fees as applicable to schools.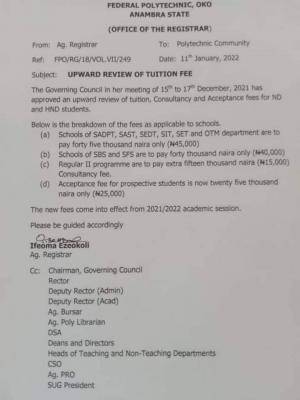 (a) Schools of SADPT, SAST, SEDT, SIT, SET and OTM department are to pay forty-five thousand naira only (N45,000)
(b) Schools of SBS and SFS are to pay forty thousand naira only (N40,000)
(c) Regular II programme are to pay extra fifteen thousand naira (N15,000) Consultancy fee.
(d) Acceptance fee for prospective students is now twenty five thousand naira only (N25,000)
The new fees come into effect from 2021/2022 academic session.
Please be guided accordingly
Share your story or advertise with us: Whatsapp: +2347068686071, +2348053062268, Email:
[email protected]