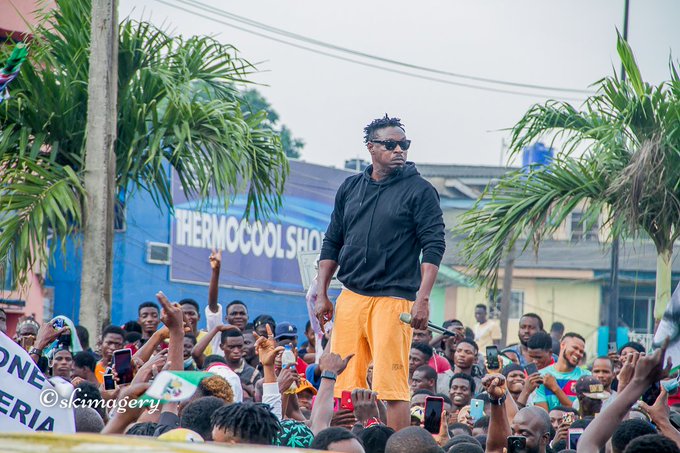 There have been talks about government officials cooking up schemes in order to make protesters discouraged, get tired and eventually give up on the #EndSARS cause. For many years, Nigerians have had a countless number of brutal police experiences afflicted on them by the infamous police unit, Federal Special Anti-Robbery Squad (F-SARS) and in the words of the Lagos State governor Babajide Sanwo-Olu, "their agitations are valid."
With every breaking of a new day, young people hit the streets with their placards and protest spirit – come rain, come sunshine – and one of the ways they keep their spirits refreshed and ready to fight for their rights is by playing agitation songs and protest music. Some of the leading protest songs include Davido's "Fem," Ajebo Hustlers' "Barawo" and the twenty year-old classic "Jaga Jaga" by Eedris Abdulkareem who has led so many movements against bad governance in Nigeria, including some #EndSARS protests.
"Itty, I have always known that one day my people will wake up from their slumber as the constant and unrelenting advocacy of people like us keep permeating their subconscious," he says to me during one of his lunch breaks on the protest ground.
The passion in his eyes for a better Nigeria cannot be hidden as he speaks with hand gesticulations, expressing a great desire for things to be done the right way.
Here's my interview with him:
---
Since you sang "Jaga Jaga" over twenty years ago, do you think there has been any change in the state of the country?
No, there hasn't been any change at all. Instead, the country has declined deeper into the abyss of a failed nation. Hence the mass protest by the leaders of tomorrow that is now unfolding.
The youths have independently started a decentralised and efficient movement. Did you ever see this coming?
Of course, I saw it coming, because that's the essence of all the advocacy I have been engaged in all these years. I have always known that all our people need is for them to be constantly reminded of how bad things are, of how sad they actually are, and of how poorly they have been used, abused and treated in the most inhumane way possible.
I have always known that one day, my people will wake up from their slumber as the constant and unrelenting advocacy of people like us keep permeating their subconscious! I have always known that a government that pays lip service to the welfare, security and general wellbeing of its citizenry shall one day be confronted with this kind of mass action.
And like we keep saying, nobody is going to plan it, it will just happen instantaneously and simultaneously as if it were synchronized by someone! And yes, of course, someone is synchronising this peaceful but unalloyed revolution and that instigator is the Most High God!
We only hope that this will spell the end of the road for bad governance and all its related vices in high and low places in Nigeria. Nigerian youths have spoken and that is the way it's got to be!
You led some of the protests last week at Alausa (Lagos). What was it like? What did you see out there?
It was awesome being in the midst of reawakened Nigerian youths. It was absolutely a thing of joy to see the leaders of tomorrow actually getting interested on how that tomorrow will be shaped!
I felt elated and joyful seeing all the seriousness showed by the youthful protesters. And what I saw that made me happier is the tenacity and sincerity of purpose they showed and the unbreakable spirit that pervades the air, which goes a long way to tell the government and onlookers that the youths of Nigeria means business this time.
What's your word to the youths concerning all of these?
My words to the youths? Very simple, and it is a line they have all come to know very well these past few days. I say to the protesters: Aluta Continua. Victoria Ascerta! And all those who have been silent/indifferent should better "sòrò sòké" because anybody fit suffer for police and army man hand tomorrow.
***
Photo Credit: @komolafesegun
Share your story or advertise with us: Whatsapp: +2347068686071, +2348053062268, Email:
[email protected]