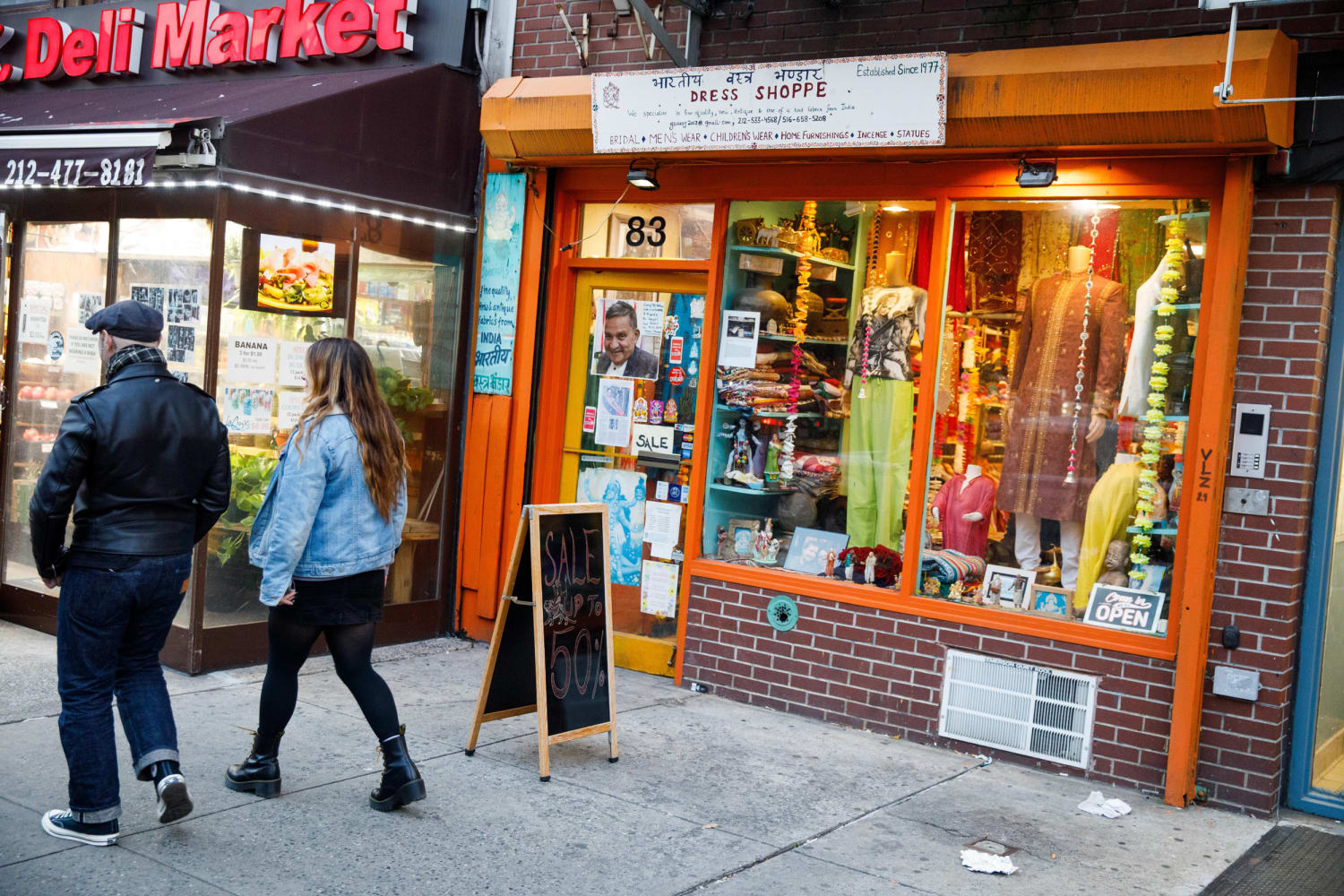 Cooper Square MHA has not responded to NBC Asian America's request for comment.
Goyal said she never got a single bill in the mail, either. But one day, someone with the company came into the store yelling and demanding the missed rent in a lump sum, she said.
"I was just watching her face," she said. "I was crying, and I didn't say a word."
The MHA sued Goyal for $265,000, she said. The same year, the pandemic started, and she was diagnosed with breast cancer. She said a hopelessness set in; the business was floundering, and she alone was responsible for fixing it.
Becoming a viral sensation
Goyal never used social media, and she had never heard of Humans of New York, New York Nico, Bella Hadid or any of the pages that first told her story as a solo businesswoman. It started with a customer's Instagram post, and documentary filmmaker Nicolas Heller (@newyorknico on Instagram) caught wind of her story. 
He made a post supporting her, and before she knew it, business began to pick up. When Humans of New York featured her, Dress Shoppe II's phone exploded.
"I called my son, 'My phone is broken, Prashant,'" she recalled. "He said, 'Let it ring, mom. If you give a million dollars you won't get this kind of ad. You don't know who is endorsing you.'"
The weeks that followed turned Goyal into a citywide sensation. Celebrities began posting their support for Dress Shoppe II; Hadid even paid Goyal a visit and texted her good luck before her lumpectomy later in the year.
What she didn't know was that Brandon Stanton, of Humans of New York, had set up a GoFundMe page in her name, and it was quietly accumulating hundreds of thousands of dollars. She wasn't familiar with the concept of crowdfunding, and when he informed her, it was pure confusion.
"My age group people, they think I begged," she said. "That I'm a beggar."
She said shame and condescension erupted from people in her life. 
"One of my friends, she called me and said, 'Saroj Ji, it looks like you're begging people,'" she said. "I didn't even know what is GoFundMe."
She confronted Stanton, she said, but he stood by his decision, saying that without the money she might be struggling for life. At first reluctant to accept, she eventually used much of it to pay Cooper Square MHA and settle their lawsuit. More still went to business expenses. With the store now entering its final few months, she's in the process of hiring movers and web designers to transition to online sales.
The store's last months
Goyal is worried. The sheer number of things that need to be moved out is dizzying. Her husband was a collector, and his life's passions are housed in the shop's back storage area, reminiscent of the Room of Hidden Things from "Harry Potter."
But for now, it's business as usual. The shop is still a colorful, warm haven for regulars and the city strollers who happen to stumble inside. With a small team of employees, she's keeping the spirit alive while she can.
"Going in there is such a good experience," customer Ahana Kaur, 21, who moved from Delhi, India, to the U.S. for college, said. "It feels very familial and comfortable. It reminds me of home."
South Asian spaces in Manhattan are rare, Kaur said, so when she found Dress Shopp II, its singularity captured her. She had an immediate connection with Goyal — they both speak Hindi and have roots in Delhi. Though the closure is a bitter pill, she said she hopes whatever happens is best for the shop owner.
Share your story or advertise with us: Whatsapp: +2347068686071, +2348053062268, Email:
[email protected]